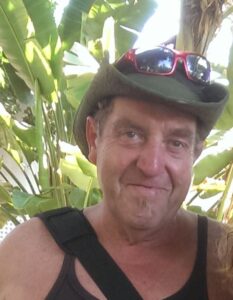 Born in Newhall, CA and the third and youngest child of Daniel Hubbard Tudor (of Massachusetts) and Jeanice Eddy (of Michigan).
Geoff lived an adventurous and unconventional life. He served in the US Coast Guard as a Cadet for a year and received a National Defense Service Medal.  He also served in the US Forest service helping to fight fires. He helped take care of his elderly parents for many years in Washington State and then moved back to California in the early 2000s.
He loved cooking, camping, fishing, music, animals, colorful clothing and had a passion for all things cycling. He spent much of his time in Ventura, doing construction work, boat maintenance in Ventura harbor and you could often see him out late at night collecting recyclables. He enjoyed deep conversation with friends and strangers alike.  
He lived outside for a period and was able to get into housing at El Patio in Ventura the last decade before he passed at Community Memorial Hospital due to existing conditions and complications of the flu virus.
He leaves behind an estranged older brother and sister but kept up relations with his cousins including Annette Alexander of Santa Barbara, CA. He especially leaves behind many dear friends who enjoyed his intellectual conversation, larger-than-life presence, loud laughter and generous compassionate huge heart.
Veterans' affairs provided all his end-of-life services. His ashes were spread at sea off the coast of Ventura, CA earlier this year.
A party will be held in Geoff's honor at the home of Shayna Metzner & Scott Hahn on Ventura's Westside, Saturday March 25 @ Noon to 4pm. Reach us on Facebook for more details