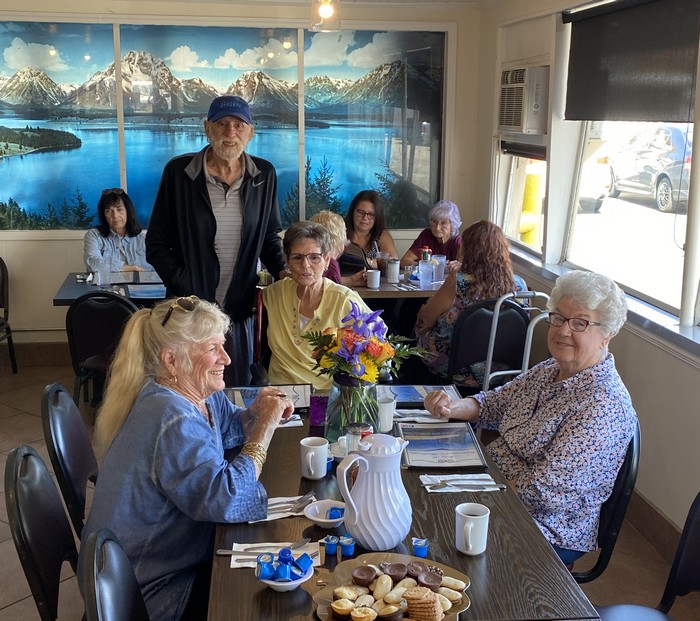 Margaret Jolene McBee
(January 25,1944 October 3, 2023)
Several years ago friends and ex-employees gathered at the Main Street Restaurant & Steakhouse visiting with Jolene and remembering the good times and food they had with her at the closed Vagabond Coffee Shop.
"Jolene"
It is with a heavy heart, full of treasured memories, to acknowledge the passing of a beloved icon of our Ventura downtown community, Jolene McBee. She was the owner operator of another beloved icon, The Vagabond Coffee Shop.
As the many hundreds of faithful customers that stepped through the doors of the restaurant, some daily some simply visiting, they all looked forward to seeing Jolene sitting at the counter watching the plates of the customers favorite meals being delivered.
Before heading out for their next destination those same customers stopped by to visit and find out the latest happenings at the Vagabond, knowing that Jolene was just as interested in their world as they were in hers. That smile and the Texas drawl Jolene never lost, was exactly what people knew they would see in every stop at the restaurant.
Jolene's generosity for the community was shown during many Christmas Holidays when she sponsored a fundraiser for Foster Children of Ventura County which was presented by KVTA Radio at the restaurant which proved to be a success year after year.
In times of Ventura County tragedies, Jolene offered free meals to responders in appreciation for the endless hours they worked to preserve our communities, and when the less fortunate needed that hot cup of coffee or a hot meal, they knew that Jolene was ready to help. Jolene's shoulders were truly broad, along with her own life's tragedies, she shared the tragedies of many people that needed that caring shoulder to lean on. She was a "one of a kind" that comes along in this world so seldom but that we are all so appreciative of. Jolene leaves behind four children, 17 grandchildren, several great grandchildren and many extended family members.
,