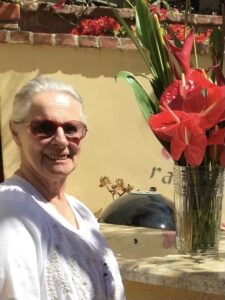 Julia Frances Campbell Namba, 86, passed away on the morning of Friday December 2, 2022 surrounded by her family in her Residence in the historic Hobson Heights section of Ventura. Julia was born in 1936 in Anderson, Indiana, where she grew up on a family farm with her younger brother Tom. She was the daughter of Kenneth R. Moore and Thelma Nola Cory.
After graduating high school, and college she moved to Chicago, and then to the West Coast where she found fulfilling employment as an educator at First Avenue Junior High School in Arcadia California. She began her career as a Teacher's Assistant and eventually became the school's librarian. Later she went onto work at Saticoy Elementary School in Ventura, where she played a principal role in developing the school's Library system.
While living in Sierra Madre she opened a toy store name "Grandma Jelly's Toys" where she specialized in handmade wooden toys and Folkmanis puppets.
In 1997 Julia met Ben Namba, and as their relationship flourished, she took up residence with him at his home in Solimar Beach. The couple moved to Hobson Heights in the year 2000, after which they enjoyed the next 20 years together until his passing in 2020. Julia was widely known throughout greater Ventura for her philanthropic nature as a benefactor and donor to local arts organizations. She was on the board of directors of the Ventura Music Festival and was a patron to both the Ventura Museum and the Rubicon Theatre. She was the principal founder, along with her late husband Ben, of the Namba Space in Downtown Ventura. Founded in 2014 this function space continues to serve Ventura as a dedicated venue to nurture performing Arts in our community.
This last year has been filled with the positive energy derived from architectural revival and restoring her home to its original beauty. In her endless dedication to further support our local arts community Julia has opened the doors to her home over the course of the last 12 months to host several fundraisers and festival gatherings.
You could always find Julia bounding around the City at local events, attending parties, lunches, dinners, and outings with cherished friends — she was widely recognized as an artful conversationalist who was able to engage in meaningful discourse over a wide array of topics. In the past year she began to host a Tai Chi group at her house where a small group of good friends would enjoy their weekly practice in the beautiful outdoor setting.
She enjoyed visiting friends, shopping at the local farmer's market in Ventura, and her weekly dinner with Michael Boyko.
She leaves behind her eldest daughter Laura Jane Campbell and her husband Michael Friedmann, and her younger daughter Leslie Jean Atia. She also leaves behind three grandchildren: Geffen, Leah, and Gian; her ex-husband, John Campbell; as well as nieces and nephews. Lastly, her two beloved cats, Daisy and Billie.
Family and friends are invited to a Celebration of Julia's Life to be held on Saturday, December 17, 2022 at 1:30pm in the Chapel of the Joseph P. Reardon Funeral Home & Cremation Service, 757 E. Main Street Ventura. A reception will follow at 2:30 PM. Donations in Julia's name may be made to the Ventura Music Festival 472 E. Santa Clara Street Ventura, CA 93001.