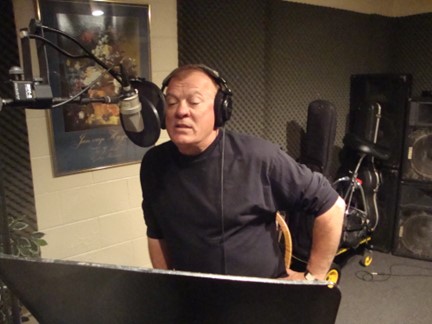 by Tammy I. Glenn, executive director, CAREGIVERS Volunteers of Ventura County
Gary Best recently died on February 3, 2023, leaving a huge void in our community. From his love of theatre and improvisation to Sunday nights when his Irish group would perform at Brendan's, Gary's voice was as distinctive as his heartfelt contributions. One of the most recent examples of Gary stepping up was when he served as the emcee at Suz Montgomery's memorial service. Those two Guardian Angels working in concert from the Great Beyond are certain to have an impact on our advancement.
We're going to miss Gary terribly here at CAREGIVERS: Volunteers Assisting the Elderly. It would be wrong of us to try to capture Gary's whole story in one little epitaph. We weren't planning this at all.
Gary's voice will forever endure as will the eulogy that he wrote for Howard Burroughs, the CAREGIVERS' senior Gary served for more than a decade. In his own words, you'll catch a brief glimpse of one of our most treasured volunteers. If you knew Gary, then you know how hard it will be to replace him. If you didn't know Gary, then maybe it's time to take your turn in distinguishing yourself the way he did.
Now, I've been warned to not make this about myself but I'm an actor … so that's obviously not going to work for me.
Howard and I began our Bromance about 10 years ago. It's a familiar story, he had just lost his wife, I had been divorced for a while, and neither of us really looking for a serious relationship.
At first, of course, I was attracted to his quick wit, his intellect and well, let's face it, he was mighty easy on the eyes. An easy man to develop feelings for.
But as time passed I realized that I had fallen for him before I realized what a catch he was. I won't go into detail about his amazing life as a scientist and educator. Faithful husband for 66 years. And, of course, philanthropist.
Being with him as much as I was, I got to witness how universally loved Howard was.
Y'know, I grew up on a farm and we had an old barn that my mother always loved. It leaned a little to one side, the paint was long gone and the old wood had turned a sort of silver gray. My father wanted to tear it down but my mother wouldn't have it. She said, "When I look at that old barn, I think of all the years it has stood against the winds of winter, summer heat, kids playing in that hayloft and growing up and leaving. That old barn has seen a lot. I think it's more beautiful than it's ever been." Howard was like that old barn. There's a certain kind of beauty that can only be acquired through years of hard work and experience.
He was kind, he was generous, a lover and poet at heart. We had lunch together nearly every week for the last 10 years and I have to say I've never known a better man.
And, Gary, neither have we!