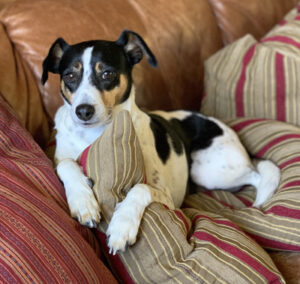 Hi: I'm Jack, a 9-year-old Rat Terrier X in need of a new home as I became territorial with the two other smaller female dogs in the home.
I'm enthusiastic, affectionate and happy most of the time. I leap in the air at dinnertime and will sit until you say "okay" to eat. I will cuddle on the couch with you, nap with you and will sleep with you on the bed if you will allow it.
I might do well if you own a large cat. I live with two large cats and I don't mess with them. Small cats or other animals may look too much like prey.
I would do best in an adult only home, but may do okay with older gentle children. I've been okay alone for 4 or 5 hours at a time. When I hear, "I'll be back." I just go to sleep until someone returns.
I'd be a great companion for my special someone. If you're interested in meeting me, please fill out an online application to meet me.
Canine Adoption and Rescue League C.A.R.L. CARL Adoption Center-call 644-7387 for more information.
---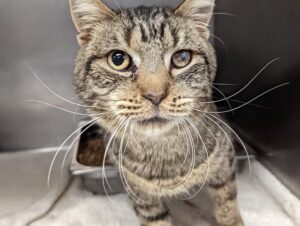 Kenobi is a 100% lover! A 4-year-old domestic shorthair male. He seeks head rubs and will be your lap buddy 24/7! He came to us as a lost cat from Simi Valley but no one has come to claim him. Come adopt him today at the Camarillo Animal Shelter. Adoption hours are 1:00pm – 6:00pm Tuesday – Sunday.
Animal ID: A789558 Shelter: Camarillo Animal Shelter
Adoption Process: www.vcas.us/adoptionprocess