Dear Editor:
The circumstances of this election are like no other in a hundred years. We need to execute our Constitutional right to vote and stay safe from the Covid-19 virus. The best way to do that is to vote from home. To make sure your vote counts: 1) update/verify your registration, 2) select the language you want your ballot in (Voterstatus.sos.ca.gov), 3) track your ballot (WheresMyBallot.sos.ca.gov), and 4) vote early. The League of Women Voters of Ventura County suggests voting by mail by October 20th to make sure your ballot arrives in time to be counted. Complete your ballot and deposit it in a drop box, mail it, or deliver it to a voting center. All of these are safe options. For more information about the election, visit the Ventura County Elections Division at venturavote.org.
Pat Butler Ventura
---
Venturans:
In an effort to inform voters, the League of Women Voters, Ventura County conducted candidate forums for local city council, mayoral, state senate and assembly elections as well as the Congressional District 26 election.
The League of Women Voters also conducted discussions of the California Ballot propositions and Ojai School Bond K. You can access the video recordings of these events at the following link:
https://my.lwv.org/california/ventura-county/candidate-forums
Be an informed voter! And, make a plan to vote!
Wayne Morgan Ventura
---
Breeze:
I've been walking around this earth for a while now. Never before have I seen such fear and loathing coming from far left haters and far right haters. At times it seems most Americans fall into one or the other of these categories. But, today I witnessed a small event that gave me a little hope. (Mind you, I saw and heard with my very own eyes and ears, it's not from a disguised Russian blog, TikToK data mine or Falun Gong newspaper.)
I was just leaving Coffee Bean with my large dark roast when a black lady approached a white male cop standing in line and asked what he would be ordering. He told her and she said, "I'm going to buy that for you," The cop actually blushed and said, "That's not necessary." She, said, "No, you deserve it." The cop was just beaming. Well, apparently, these people must have missed the latest Fox News and MSNBC shows because, for some inexplicable reason, she did not see him as a white, racist oppressor and he did not see her as a lawless, looting rioter. They seemed to share the outrageous belief that each was a fellow human being worthy of mutual respect and appreciation. Could this be the real America? I hope so.
Nick Bonge Ventura
---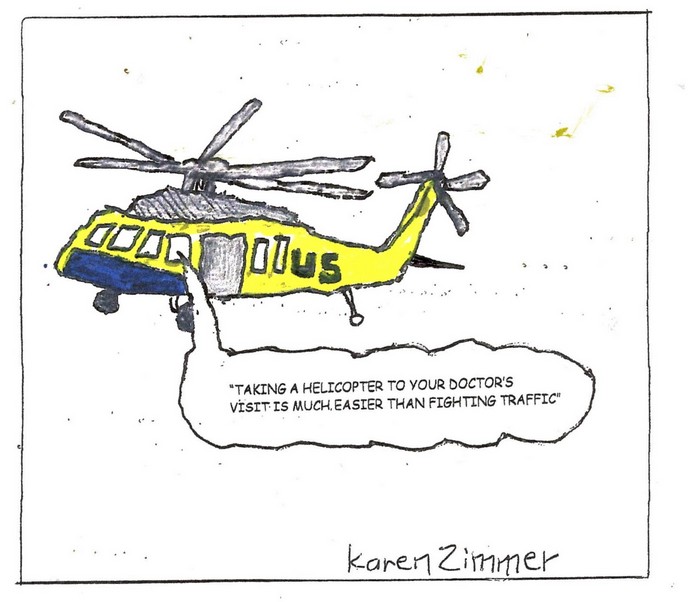 Are you an amateur cartoonist?
Send your cartoon(s) to [email protected] for consideration to be published.
---
People who do not know how to laugh are always pompous and self-conceited.
~ William Thackery