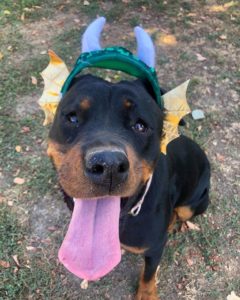 Hi: I'm Tazzy, a 1+ year old beautiful Rottweiler who is in need of a loving home. I was rescued from VC Animal Services and I'll always be grateful to the Starr Group for sponsoring me and to C.A.R.L. for taking me into their program. I know I'm in great hands and they will find me my forever home.
While at VCAS I exhibited some unusual behavior. I'd start to bark/growl at 'phantoms'. They think it may be due to ear canal agenesis and I may be over stimulated by light/shadow and/or sound. I may be only able to hear muffled sounds or vibrations.
I'm very social to people, but it's unknown how I'd do with children or cats. I was introduced to a couple of other dogs at VCAS and after sniffing one another, we chased each other briefly and playfully. I do bark through the fence at dogs who pass by. So for now it's still unknown how I'd do with another dog.
If you have room in your heart and home for little sweet me, please fill out an online application to meet me. Canine Adoption and Rescue League C.A.R.L.CARL Adoption Center-call 644-7387 for more information.
---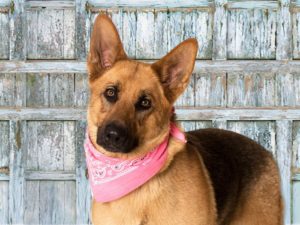 Can you see yourself with a fun, active, smart dog? Coral May would make a wonderful companion for long walks, hiking and even running. There is a catch though. You need to be a strong handler and train her to listen to you.
Some of our more experienced volunteers have been working with her using a "Haulti" face collar and have made great progress already. Since Coral May is so smart you will also want to help her learn commands. She  already knows sit, stay, shake and lay down. Make an appointment to meet this beautiful girl.
Ventura County Animal Services – Camarillo location – 600 Aviation Drive
Coral May A692466