From Pierpont Elementary to Broadway.
Daniel Brackett has played many leading roles in musicals growing up in Ventura: a wriggly Caterpillar in Alice in Wonderland at Pierpont Elementary, a shirtless Mowgli in Jungle Book at Rubicon Theatre, a rebellious Ren in Footloose at Ventura High. But Daniel these days is performing in perhaps his biggest role, and certainly on the biggest stages, of his life as a cast member in Disney's North American Tour production of Aladdin.
Part of a 30-member actors' equity (the union representing professional theatre actors) cast, Daniel landed a role as ensemble and understudy for two roles – Omar and Aladdin. Daniel began rehearsals for the show in New York City last summer, and has been part of the show since its opening last October in Schenectady, New York. Since then, Daniel has criss-crossed the continent, doing 8 shows a week in Chicago, Washington, D.C., Albuquerque, Montreal, Denver, to name a few.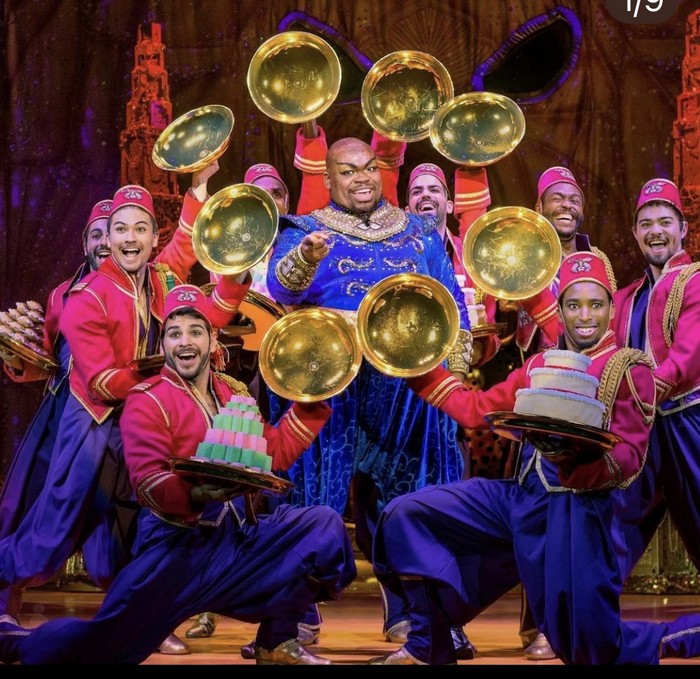 Linda Ottsen, a premier voice teacher in the area and retired Ventura College faculty, exclaimed: "I always knew Daniel was destined for a career in musical theatre, but to be cast in a national Disney tour immediately after graduating from college was a happy surprise!" Ms. Ottsen began teaching Daniel his freshman year of high school and continued to follow his performances and include him in her studio recitals even while Daniel was in college at Elon University in North Carolina.
Ms. Ottsen's favorite memory is of Daniel's senior year performance of Maria from the musical West Side Story, with Ventura High's orchestra at their year-end concert. "We had worked on that song so much during his voice lessons – it is one of the most difficult tenor songs," Ms. Ottsen remembers
Daniel's longtime trombone teacher, Paul Hunt, director of music at Ventura High School, conducted that performance of Maria, and first met Daniel when he was in middle school. "Daniel was shorter than me at the time!" jokes Mr. Hunt. Daniel displayed a quick affinity for the instrument and Mr. Hunt placed him in the honors wind ensemble group as a freshman, and as principal trombonist his sophomore through senior years. But Mr. Hunt had to share his star student with the drama department – "I just knew he was going to get cast as the lead in the musical."
And indeed, Daniel was cast by Stefoni Rossiter, director and drama teacher for Ventura High, in many productions. "Daniel has always had a serious, respectful, professional demeanor," says Ms. Rossiter, "Even when he was just in sixth-grade playing Winthrop in The Music Man, I could tell he was dedicated, prepared, creative, and so talented – he had such a sweet voice and presence on stage!" Ms. Rossiter came to fully appreciate Daniel's potential when she cast him as Cat in the Hat in Seussical: "He had all the singing and dancing down, but he was able to trust me and trust himself in adding a zany, silly, unscripted playfulness to his performance. . . it was a magical transformation for him and I remember thinking, Daniel Brackett is really going places!"
Brian McDonald, who directed Daniel in Rubicon Theatre Company productions spanning from 2010-2017, also thought it was "obvious that Daniel was gifted and would find his home on the professional stage.Daniel clearly loved what he was doing, but he also took great pride in the work that it took to do it well," Mr. McDonald recalled.
Daniel Brackett will be the whole city and community of Ventura's son coming home when he appears at the Pantages in Aladdin which runs for 3 more days. More information about the show, including the official link to purchase tickets, is available at https://aladdinthemusical.com/north-american-tour-cast/.