Stair Climb remembers September 11. Photos by Patricia Schallert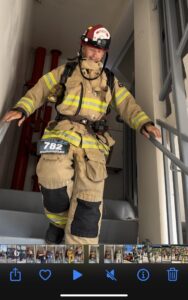 Ninety-one Ventura firefighters, police officers, and members of the community gathered to honor fallen 9/11 first responders by re-creating the 110 floor climb up the Twin Towers.
The Stair Climb is organized by the Ventura City Honor Guard and Ventura Fire Foundation. Proceeds from the event will be used to support the Ventura Fire Foundation's mental health programming for firefighters and their families.
It was held September 9, at the Crowne Plaza Ventura Beach hotel.
Bagpipers lead the procession to start the climb. Firefighters and police officers, some in full gear climbed the stairs as families and guests cheered them on.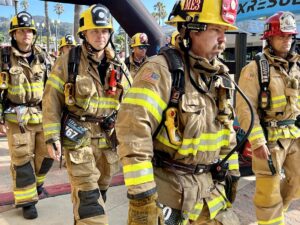 Along with dozens of individuals, teams from the following groups were represented.
Culver City Fire,District 1 County Supervisor Matt LaVere,FBI Los Angeles, Fillmore Firefighters,Flying Embers,Limitless,Oxnard Fire, Performance Wellness and Injury Prevention,Persistence Culture, San Bernardino County Fire,Santa Barbara PD SWAT,Stronghold Fitness, The Vent,Ventura City Fire,Ventura County Fire,Ventura Police Dept and Visit Ventura.