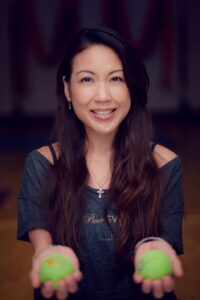 Hello community, please join me on September 17 from 12 p.m. to 2 p.m. to celebrate the opening of my Pilates studio located at the beautiful Portside Ventura Harbor!
I am a long-time resident of the county, having emigrated to Oxnard at the age of one with my father, an enlisted Navy man, and my mother, a dentist, from the Philippines. I grew up in the diverse neighborhood of Pleasant Valley, went to Hathaway elementary school, then attended Blackstock junior high, and graduated from Channel Islands high school. After a few years in the San Fernando Valley attending college and exploring a myriad of jobs while missing the ocean air and cool breeze, I landed with a third-generation acupuncturist who taught me about Eastern medicine. Since then, I have been fascinated by our abilities to self-heal and fell in love with Pilates when I was selected to teach at Bally Total Fitness, Oxnard. Afterward, I became a trainer for the Naval Bases of Ventura County to mitigate injuries during exercise training, then assisted the doctors at Kang Physical Therapy Clinic in Ventura. In 2013, Dr. Kang encouraged me to open my own studio, which I did and operated it for the last ten years. In that timeframe, I attained an M.S. in Human Nutrition, received education in scoliosis, became a Yoga Tune Up® teacher, and earned a massage therapy license. I ran two half marathons in 2018 and 2019 to encourage my understanding of the running body using the Jeff Galloway method. In May 2023 I attained my second graduate degree, this time in social work with an emphasis on urban community wellness and clinical mental health therapy.
At Inner Soulstice Wellness Pilates Studio, I provide therapeutic movement instruction and bodywork for pain relief, injury prevention, and aging gracefully grounded in physical therapy, Pilates, the science of fascia, and yoga philosophy. Having observed thousands of bodies, I have cultivated a keen eye for injury prevention and aim to help people enjoy the activities they love for as long as they can, pain-free. When you come to see me, you receive one-on-one attention and care that is not dictated by insurance, which means I spend time with you and listen to your needs. I will analyze your posture and assess your movement patterns. Together, we explore biomechanics and alignment to create improved mobility and stability using Pilates apparatus and a variety of methods that range from myofascial release techniques to manual therapeutic massage. I specialize in joint replacement rehab pre- and post-operative, and structural mischiefs, such as scoliosis, which can be congenital, or caused by an accident, habit (such as sitting at a desk for long periods), or due to physical pastime pleasures like cycling, golf, tennis, and more. At the heart of each session is empowerment. It is an educational experience. There will always be teaching nuggets and the learning of valuable skills that will keep you healthy and moving.
Relaunching after the pandemic feels like a rebirth. Being seen is vulnerable, sometimes frightening, especially in this age of social media. But as my dear friend reminded me, it's how we know we are growing. My other interests are consciously crafting skincare products. When I'm not researching or managing the studio, I'm growing succulents and lounging with my Shih Tzu, Roxy Balboa.
Save the date to join me for food, crafts, and tunes! I look forward to meeting you!
Location: 864 Schooner Dr., Ste. 108, Ventura, CA 93001