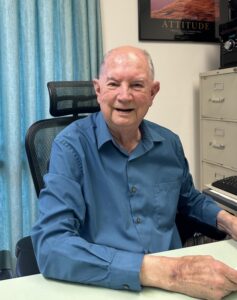 Mike McBain's academic trajectory led him from Cal State University, Los Angeles, where he obtained a Bachelor's degree in philosophy, to Cal State University, Northridge, where he earned a Master of Business Administration. Amidst the camaraderie of academically inclined peers who paradoxically struggled with spelling, Mike's educational journey shaped the foundation for his multifaceted career.
In 1977, Mike's entrepreneurial journey took off with the establishment of Central Courier. This venture, which he owned and managed until 2013, catered to the immediate pick-up and delivery needs of Ventura. The inspiration behind this venture was rooted in Mike's past—his perpetual tardiness that once irked his father. Through his father's guidance, Mike internalized the significance of punctuality, a principle that enabled him to successfully oversee the timely delivery of approximately 1,000 items daily.
The subsequent sale of Central Courier marked a transition to a new chapter: the inception of McBain Managerial Bookkeeping. As the venture flourished, Mike expanded its reach to serve Ventura County, offering impeccable financial management services to an array of businesses. Throughout the year, Mike also demonstrated his prowess in real estate transactions, a skill that organically led to his oversight of Montalvo Center LLC Property, which included the management of diverse office buildings in Ventura.
Beyond his professional endeavors, Mike's commitment to community service manifested through his involvement with the Ventura Downtown Lions Club. Since joining in 2000, he has contributed meaningfully to community initiatives. Mike's service-oriented approach extended to his participation on various boards, encompassing the Ventura Downtown Lions Club and Ventura Adult Continuing Education.
Mike's unquenchable thirst for innovative business undertakings remains a hallmark of his journey. His most recent accomplishments, earlier this year, involved the publication of two significant works. One introduced a groundbreaking 32-letter phonetic alphabet, designed to encapsulate the nuances of American spoken and written language. Both books – Alphabet Soup and Ambitious Ambrose can be purchased on Amazon!
Simultaneously, he diversified his portfolio through part ownership of Olive Ventura, a prominent establishment nestled in Downtown Ventura.
In the dynamic landscape of business, Mike's experiences have given rise to valuable insights. Lessons learned include the realization that price isn't the sole determinant of success. His tenure at McBain Managerial Bookkeeping highlighted the significance of offering value beyond monetary considerations. As Mike and his team navigated various industries, they discovered that clients sought expertise, reliability, and effective solutions—factors that ultimately trumped pricing considerations.
As Mike's journey continues, he remains poised to embrace new business adventures, armed with a wealth of experience, a spirit of innovation, and a deep-rooted commitment to both professional excellence and community betterment. His story encapsulates the essence of growth, adaptability, and the enduring impact of lessons learned along the way.