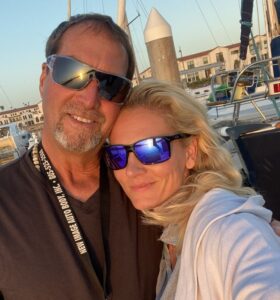 October 2021, Kathrin and Dave opened their Paddle Board Store directly across the public launch pad in the newly built complex called Portside Ventura Harbor.
At Focus SUP Hawaii – Ventura, their first love is offering experiences to people's lives, no matter if it is buying a SUP board or offering activities on and off the water.
Kathrin and Dave come from completely different business backgrounds. Kathrin is an architect and was born and raised in East Germany. Dave is a retired Police SWAT and lived most of his life in California. Both are certified yoga teachers, SUP yoga teachers and paddle instructors for several years.
An opportunity arose to start their own paddle board business representing a brand they have been using and believing in for years. Just recently they added Himiway e-bikes to their collection. You do not know if paddle boarding is for you or what type of board is right for you? You are thinking about buying an e-bike, but you have never ridden one before and are unsure if it is what you are expecting it to be? Focus SUP Hawaii – Ventura is your place to go!
They also offer SUP yoga classes, paddle board tours, paddle board workshops and Yoga on Yoga Balance Boards that can be booked privately, semi privately or for groups up to 10 people. Gentle Yoga is available on land for all levels every Sunday Morning from 10:00 AM – 11:15 AM and bookable online.
One of Kathrin's specialties is working with people that have physical challenges of any kind. She teaches yoga based on people's abilities and needs. As an energy healer, she feels you and will make sure your needs are met. Feel free to contact her in order to discuss any worries and concerns.
Dave and Kathrin are a great team and complement one another. They are not selling you a product or class. They are making sure you have all background knowledge needed to make the best choice for you. No matter what you are going to book or buy, both will make sure you feel confident about your decision.