Chief Darin Schindler has led the Ventura Police Department since April 2020. The Patrol Task Force is responsible for restorative policing while also offering support to people experiencing homelessness. Photos courtesy of the Ventura Police Department
by Amy Brown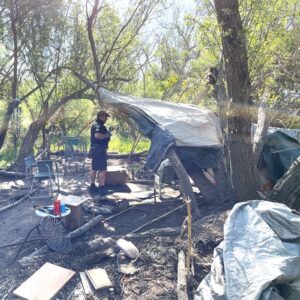 Chief Darin Schindler is a career law enforcement professional, having started with the Port Hueneme Police Department in 1989, and then serving in a wide range of roles in the Ventura department since 1995, culminating in taking the reins as Chief of Police in 2020. When asked what drew him to a career in policing, he shared that he'd grown up watching shows like Adam-12 and Starsky and Hutch, and that in the 1980s, when crime rates were soaring, he wanted to choose a career where he could make a difference. "I liked the idea of doing good things that would benefit the community, putting bad guys in jail and helping people," said Schindler.
Today in Ventura, certain types of crime are on the decline, according to Schindler. Ventura's annual crime statistics are based on the FBI's National Uniform Crime Reporting Program, defined as the number of crimes committed per 1,000 residents. The crimes are broken down into categories, and the report comes out each spring for the previous year. Schindler reports that preliminary numbers indicate that 2022 had some of the lowest reported crimes in 30 years. "That being said, it doesn't tell the whole story," said Schindler. "What we see so far is a reduction in Part I crimes which include burglary, theft, robbery, homicide, sexual assault, larceny and arson. What we've seen happening over the last few years, however, is a more visible increase in quality of life issues." Many of these issues are directly related to homelessness, which rose by 25% during the pandemic, according to the county's Point in Time Count in 2022.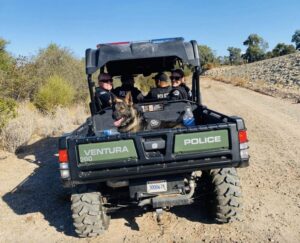 Schindler emphasized that homelessness is not a crime—however, some behaviors that can be affiliated with it are. "We focus on the behavior, not the homelessness. Sometimes these behaviors are criminal in nature, and when they are, it's usually lower level crimes like trespassing, sleeping in public, and a lot of the crimes that you would attribute to vagrancy," he said. "We do everything we can to do to help the homeless." The police department has a range of resources to help address the public health and safety impact of homelessness issues in the area, with a more holistic approach that partners with Behavioral Health and local organizations to provide outreach, support and advocacy. The department has a Patrol Task Force which is responsible for both restorative policing, and is focused on engaging to provide connections to services and outreach. Schindler said has the Patrol Task Force officers have relationships with nearly all unhoused individuals in the area. "We always try to offer assistance first. Sometimes we can't because they've committed a crime, and sometimes you have to offer assistance 20, 30, 40 or even 50 times before they're ready for it," said Schindler. One resource is the Community Intervention Court, which is focused on providing possible solutions for those caught in a cycle of arrests, and provides defendants charged with repeated vagrancy-related crimes the opportunity to participate in treatment and social service programs. According to Schindler, his officers frequently encounter the same people, often with mental health and/or alcohol or drug issues, who repeatedly come to the department's attention because of lower level crimes. "We will take enforcement action, but we understand that arresting somebody because of an alcohol problem and perhaps urinating in public, when they have nowhere to stay, doesn't solve the problem. It may solve it for that day but not long term. We're hoping to come up with a better long term strategy to deal with the issue."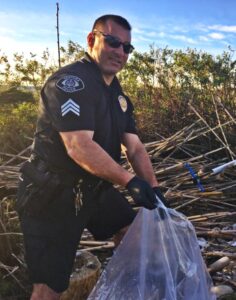 Through the program with the court system, individuals can agree to a structured plan for assistance—for example if they need recovery treatment, they can opt for that instead. "They'll come up with the plan, and the idea is the person has to be willing to do it, and if they successfully complete the program, their charges can be dismissed. That can give them the opportunity to start fresh, while helping themselves get back to where they want to be," said Schindler.