Liam takes part in many Go-Karting events around the country. Photos by Evan Brown photography and Patricia Schallert
by Patricia Schallert
Go-Karting is a motorsport that is enjoyed by people of all ages, but it is especially great for kids who are interested in racing. Young people can start competing in Go-Karting competitions at a young age because the sport has a low barrier to entry and has less regulations than traditional car racing.
When you look at some of the biggest names in Formula 1 racing, many of them started their motorsport career racing Go-Karts. Many of them still love to Kart and attribute their success on the racing circuit to Go-Karting.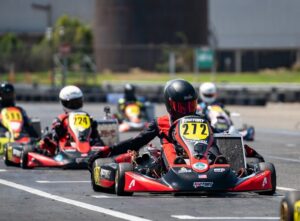 Liam Jones, a 15-year-old sophomore at Ventura High School who runs in track and field events, was introduced to go karting because of his grandfather's interest in NASCAR and Formula 1 car race events.
Seeing this interest, his grandparents bought him a "Shifter Go-Kart" when he was 13, he began training and has been racing ever since.
 Now he takes part in many Go-Karting events around the country with great success. Currently he is racing two times a month.
His championships include:
2021 Los Angeles karting championship Pro Shifter 2 – 3rd place in championship 1 win, 2 Podiums in Fontana.
2022 Los Angeles karting championship Pro Shifter- 3rd in championship,
1 Win, 3 podiums also Fontana,
Ranked #25 nationally out of 212 drivers
4th in the 2022 Skusa PKC, with 1 podium
2022 was his first season in the Top tier Pro class
Reflecting on his racing goals, Liam eventually wants to race cars and compete in NASCAR and Formula 1 racing.
When not physically working on his go kart, he uses realistic, simulated experiences on his computer that translates directly into concrete instruction, with time measured results. Many professional drivers use this program to improve their skills and stay competitive. Liam reports it is very fun and instructive.
Liam's Go- Kart career began with shifting, understanding the use of the throttle, the sound of the engine when shifting happens, and to use both feet when he drives. Liam's most important skill that he had to learn was to stay focused in the simulations and in real racing events.
Even though Liam is still in school, he continues to work on his basic Go-Kart skills. With his coach and support team in Fontana, he is learning everything about his go kart, including how to recognize and fix it when there is a problem and build it, so it is most efficient when he's racing. He learns from other racers and uses his own successes and failures from his personal racing experiences.
Liam also learned rudiments of racing at a young age by going to Jim Hall's racetrack when it was in Ventura at the Fairgrounds. He learned to race on rented go- karts until his grandparents bought him the "Shifter" The Shifter is manufactured in Riverside and has a TM KZ R1-125 cc engine that hits speed of 50 on the raceway and can go over 100 mph.
The Shifter Go- Kart made by "Factory" is from Riverside and they specialize in Go-Kart designs for each individual driver. "Factory Karts", are a team of passionate and professional people whose goal is to bring karting to the mainstream sports market. They are also Liam's support team when he is in Fontana.
Shifters are some of the best Go- Karts to drive according to Liam and a great way to prepare young drivers for professional race car driving. Liam's support "Shifter team" help him keep his Go Kart in top shape. He's raced in New Orleans, Utah, and California.
With professional Go-Kart racing, there is a weight restriction as there is in professional car racing. The weight needs to be no more than 390 pounds and after each race, Liam and his Go Kart are weighted together. Liam keeps his weight in check by running track and cross-country events at Ventura High School.
A new Go Kart track is being built in Winchester, CA. Liam says the best kind of Go-Kart track incorporates every element a driver could want with blind crests, dramatic downhill elevations, sweeping-flowing corners built into the side of a double-mountain peak and a blend of slow, medium, and incredibly high-speed corners that will produce many overtaking opportunities. The result is a track with the look and feel of a small Formula 1 circuit.
Race season is from March to November.