Breeze:
"Ain't Misbehavin' '' a musical review, celebrating the Music of Fats Waller, running at The Rubicon to December 18, simply should not be missed. The set alone may be the best of the best in Rubicon's 24 years!
I had the good fortune to attend the director's preview last evening and became an instant fan of Wren T. Brown who is a 4th generation entertainer in his family. In 2007, Brown founded Ebony Repertory Theatre (ERT), the first African-American professional Equity theatre company in Los Angeles history where he serves as its producing artistic director from inception to the institution's now-15-year anniversary
Rubicon has the good fortune to have Beverly and Kirby Ward at the Rubicon helm, with a Broadway singing and dancing history of their own, amazing contacts and youth education background and outreach!
Mike Merewether  24 year Rubicon supporter
---
Breeze:
Just finished reading the letters to the editor and the news that Sheldon is backing down or riding off into the sunset as the Opinion writer. What a mistake on his part and please tell him no..no.. no…!!! We all love him!!   Listen, the old saying is "if you aren't made of leather, have a tough backbone" or don't write an opinion column or run for a political office.  Last time I looked his approval rating was twice that of both Biden and Trump.  Sheldon and I both agree that the world and the human race is only doing one thing…Dumbing down.  No one reads a classic book, what is literature? and what is a true novel….and the Generation X<<Y<<and Z think that Shakespeare is a very expensive trout fishing reel! Sooooo sad…..Anyway, where do we go from here?
Christopher Dryden
---
Opinions
I was wondering how hiring two more police officers was a better way of helping the homeless in Ventura?? Make me understand why $400,000 is better spent on police officers than to perhaps pay for hotel vouchers or food , laundry or showers basic human needs that aren't being met in the city of Ventura. I can surely benefit from such a bit of kindness or understanding that there are no beds in Ventura for a dual diagnosis. Please realize that anyone is just a paycheck or eviction away from homelessness. The answers to the provision of resources for the homeless isn't being met by hiring two more people to arrest them..it's a total misallocation of funds.
Dierdre Richmond
---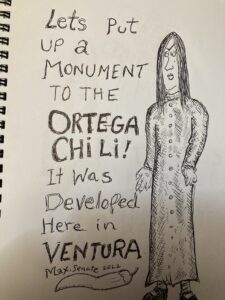 ---
The only good reason to leave a party without thanking the host and hostess is if you weren't invited.
~ Bix Bender