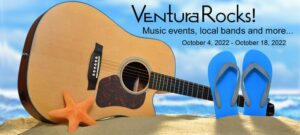 by Pam Baumgardner
VenturaRocks.com
There are a number of special events lined up during the next two weeks, and of course you'll also want to map out your Halloween plans, I'm finding a number of venues are celebrating on the days leading up to the big night. If you go to the VenturaRocks.com calendar page, you can search "Halloween" and see what I've found out so far. I'll give more details in the next issue of the Breeze.
Let's start with Boccali's in Ojai and their Boots & Bluegrass special event featuring live music from Drea & Kellen Van Allen. This ticketed event includes a family-style Italian dinner, non-alcoholic beverage (wine & wine available for sale though), and live entertainment on Thursday, October 6 from 5:30 to 8:30 in the evening. Ticket information can be found on the Ojai Valley Chamber of Commerce Facebook page.
The Seaside Highland Games return to the Ventura County Fairgrounds this year over the weekend of October 8 and 9th with live music from the Angry Brians, Sligo Rags, Browne Sisters, George Cavanaugh and the Ploughboys. This Scottish themed event is family friendly and includes such competitions as bagpipping & drumming, drum majoring, fiddling, highland dancing, and heavy athletics. Tickets can be found at SeasideHighlandGames.org.
Saturday, October 8 is also the return of Surf 'n' Suds. This ticketed event features rows of vendors and with lots of alcohol samplings, and this year a mega sized beer pong competition. They're back at their San Buenaventura State Beach location (entrance at San Pedro Street). The last time I went, I visited one of their vendors selling a unique wine opening device, and I ended up on a commercial which aired on several social media platforms, so you know, you too might can become a star 😊. Live musical entertainment will feature the Free Love Project, KingQueen Band and DJ FIU. For ticket information, go to SurfBeerFest.com.
Surfer's Point Live hosts Boots & Brews (yes this is the second one in the past few months), and it falls on a Friday, October 14, staring Tim McGraw, Michael Ray and Bailey Zimmerman. So get off early from work, pull on your country boots and head over to the Ventura County Fairgrounds when the gates open at 3 pm, grab a cold one and enjoy some of the best country music around! Secure your tickets at BootsAndBrews.com.
The Brite Room located at Music Freqs, at 2258 Pickwick Drive in Camarillo offers an all-ages live music venue with bands of all genres available to the under 21 crowd. You most likely will remember this is the space formerly known as Rock City Studios. Kudos for taking a chance, and making a safe place for kids to take in live shows. I'm hoping to share more of their listings in the future. Currently I have Feed the Beast, Disrupted Euphoria and Black Moon Lilith on Friday, October 7, and Ottto, Noah Weiland and Akila Fly on Saturday, October 8. Tickets are available via EventBrite.
Ojai Valley Day is Saturday, October 15 with lots of vendors, arts, activities and live music from 10 in the morning until 6 pm. I understand they'll have two stages one of which is the Gazebo, and the other the Libbey Bowl where Abba Dabba Doo! (Abba tribute) plays at about 3 pm followed up by Spencer the Gardener, both of which are free to the public.
New shows on sale:
Ojai Underground:
Jamie Drake on October 15
Expandards on October 21
Perla Batalla on November 11 & 12
Ventura Music Hall
The Aquadolls, Sitting on Stacy & Strange Case on October 21
La Santa Cecilia on November 1
Sammy Johnson on November 3
Long Beach Dub Allstars on December 3
Zoso, the ultimate Led Zeppelin tribute on January 14, 2023
Ventura Theater
GlorRilla on January 14, 2023
Quick Notes: The Twist is switching hands early this month, current owner Teri doesn't anticipate any major changes with the live music you've come to know and love; It's a Flashback 90s night at Poseidon Brewings with Vinny Berry on Friday, October 7; Numbskull Productions present Dirty Rotten Imbeciles at Gigi's on Tuesday, October 11; Cantara Winery is celebrating their anniversary on October 15 with Heart and Soul; and Rey Fresco will do an intimate performance at the Aqua Beachfront Bar located inside the Crown Plaza Hotel on Saturday, October 15.
By the time this issue rolls off the presses, The Fatty Vegan will have closed their doors for good. Sad times for you Vegans out there, but we're much appreciative of all the live bands you brought to town. Best wishes for your family's future.
Do you have any music-related news or upcoming shows you want help publicizing? Please send all information short or long to [email protected], and for updated music listings daily, go to www.VenturaRocks.com.