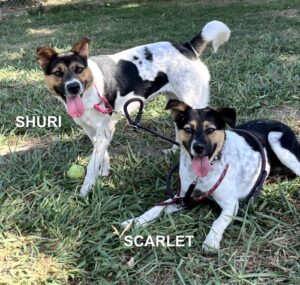 Hi: We're Shuri and Scarlet, beautiful Shepherd X rescued from a LA Shelter where we were found as strays. When we first came to CARL, we were very scared and unsure about people. Everyone tried to reassure us that we were safe now and could relax.
We're happy to say we've come a long way since first arriving at CARL and now enjoy going on walks and playing in the arena. Each week we become more trusting and confident.
Although we enjoy each other's company and wouldn't mind being adopted together, it is not required we be adopted together. It's unknown how we'd do with other dogs, but may do ok if the other dog is not dominant.
Please fill out an online application if you're interested in meeting us. Canine Adoption and Rescue League C.A.R.L.https://carldogs.org/
CARL Adoption Center-call 644-7387 for more information.
---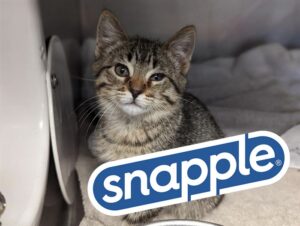 Meet Snapple, a playful, cuddly, gray 11-week-old kitten! He came in with an orange tabby (seen here) who got adopted shortly after this video was recorded. So, Snapple is still here, waiting for his forever home. He's a little under the weather, but due to our expert veterinary care, he's doing much better! If you'd like to meet Snapple, schedule an appointment at https://www.vcas.us/adopt or come down to the shelter during normal Adoption Hours of 1:00pm – 6:00pm Tuesday – Sunday. If you have questions, please contact us at (805) 388-4341 or [email protected]. VCAS