Letter to the Editor
The United Water Conservation District plays an important role in managing sustainable water supplies in Ventura County. Mohammed Hasan serves on the Board of Directors for District 3 representing the Ventura area and is on the ballot for re-election in November. He has been an effective voice on United's board.
I have known Mohammed for more than 30 years and am well aware of his experience as a civil engineer and water system manager. He has designed water system improvements throughout the County and has been applying his considerable knowledge and experience to United. Besides engineering, his generous public service extends to social, environmental, and educational causes.
His engineering voice on the United board provides an important perspective for their planning and deliberations. Voters in Ventura have the opportunity to re-elect Mohammed Hasan to the United board in November, and should do so.
Phil White
105 Layton St
Ojai
805-804-7625
---
Dear Ventura,
All is not well in VUSD. Ventura Unified faces a swath of teachers and staff angry at an unfair and dishonorable contract offer.
Responding to students' needs, teachers and school staff have thrown themselves into the social and emotional well-being of Ventura's young. They have been mentor and counselor to students, an open ear and heart in the face of fire, pandemic, economic inflation, increasing anxiety, social instability and academic recovery. They have worked overtime, online, in person, facing the perils of infection, the fragility of vulnerable students, and the discontent of society at large. The district has failed to treat teachers and school staff with the level of care that teachers and staff have shown students.
Do not believe VUSD's Facebook posts, intended to paint a picture that all is well. Had the district turned the camera on August 23rd, their post lauding VUSD's "Celebrate" rally would have painted a different picture: teachers and school staff, dressed in red, carrying signs and banners, chanting and proclaiming their outrage and disappointment at the district's failure to honor, appreciate, and respect their work.
Speaker and student, Gino Caceres, understood the situation better than the district, ending his story of resilience by thanking teachers and staff for "taking care of us." His success was their success. The value and the worth of teachers and school staff continue to fall on deaf ears as the district refuses to expedite negotiations for an expired contract.
Teachers and staff of VUSD ask parents and the community to stand up for their kids by standing by their teachers and school staff. Teachers and staff cannot continue to care for the academic, emotional and social needs of students while facing financial insecurity and emotional distress in their own lives.
Sébastien P. DeClerck
Vice President, Ventura Unified Education Association
Teacher, Pacific High School, Ventura
Editor note: We asked the VUSD to respond to this but they didn't.
---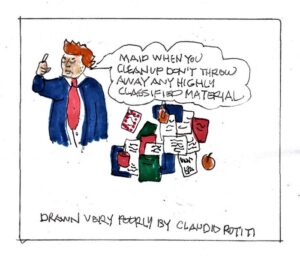 ---
The ultimate measure of a man is not where he stands in moments of comfort and convenience, but where he stands at times of challenge and controversy.
~ Martin Luther King