by Richard Lieberman
A Coffee with a Cop event on May 19th was held at Starbucks located at 4710 Telephone Road in Ventura. The event offered an informal milieu for the community and the cops to discuss concerns within the community. The Coffee with a Cop event focused on the departments wellness initiative and included time to meet with Asher, the VPD's new comfort dog.
"With the extreme emotional demands and regular exposure to trauma many first responders endure, we hope we can play a role in changing the culture and fighting the stigma associated with mental health," said Police Chief Darin Schindler.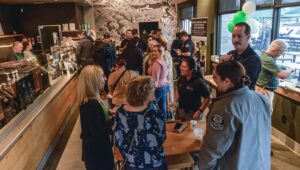 The theme for this public meeting was "Together for Mental Help," a theme that the Ventura Police Department will continue to develop in the months and years to come.
Coffee with a Cop meetings hope to break down the barriers between citizens and police in an informal relaxed environment.
This year, Ventura Police Department has partnered with the National Alliance on Mental Illness (NAMI) and is looking to raise awareness and raise funds for their various initiatives.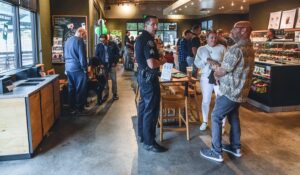 Maya Bumaya, co-founder of First Responders for mental Health Initiatives and NAMI board member said "We are partnering with the Ventura Police Department to raise mental health awareness and funds for NAMI. Interaction with law enforcement occurs during emergency and highly emotionally charged situations. These meetings and subsequent on-going meetings will focus on breaking down communication barriers between the police and the public. These informal meetings allow for a more comfortable and relaxed one-on-one forum to solidify relations between citizens and the police."
"This is about the twelfth pop-up we have had in the county to raise awareness," she said. "Ventura Police Department did a wonderful job in promoting the event, they have a lot of supporters out here," she added. "We have had several events of this type all over the county." She also added "It has been great working with our first responders to raise mental health awareness. It is an important topic right now,"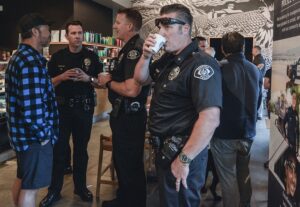 "I want to say thank you to all the first responders' teams countywide they really made it possible for NAMI to keep programs going throughout the year. Last year the fund-raising goal was $100,000 and first responder teams raised about $67,000 of that. Really important to raise awareness the suicide rate among our community and the first responders are extremely high and we really need to do something about that," added Bumaya.
Ventura City Council Member Jeanette Sanchez-Palacios was in attendance and said "Especially during the tough last couple of years through the pandemic, isolation and having to quarantine that affects people and I think it is great to make mental health something that is normal," She added "people should not feel a stigma when addressing mental health this to me is very important and we should normalize it."