The before and after photos are Andrea Vargas from New Mexico and Maddi Simpson from Ventura. Photos by Patricia Schallert
by Patricia Schallert
"En Plein air" is a French expression that means "in the open air". It is used by artists to describe the art of outdoor painting, capturing landscapes, sunsets, bodies of water and majestic views. Santa Cruz Island fit the description perfectly.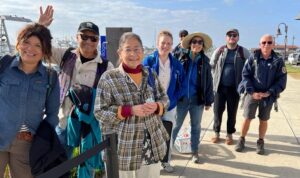 Saturday morning, May 21st brought a group of artists to the Island Packers boat launch for a one-of-a-kind adventure to Santa Cruz Island to paint with esteemed artist Margaret Garcia. Unfortunately, Margaret Garcia was unable to go but her replacement, Renee Tallent , Ventura coordinator for the Arts from the County of Ventura Museum was able to take the lead in making sure the experience would go on.
Roberto Vargas, Latino Advisory committee joined the group and was instrumental in helping the artists get to know each other once they arrived on the Island. From there, the artists went their separate ways and found a variety of locations to create their open-air art and as Claudia Soto enthusiastically said, "We will let the art unfold".
Upon returning to Ventura Harbor, several of the artists said, "It was like being in a different world." There were no cellphone or Wi-Fi distractions and Andrea Vargas, from New Mexico said "We could just stay focused on our art." Others commented that they could go slow as they were inspired by the beauty of Santa Cruz Island with its incredible weather and beautiful scenery." When asked if they would do this again, a resounding "absolutely" was the answer.