Dear Sheldon,
Thank you for publishing The Power of Kindness by Visit Ventura in the Dec 29 – Jan 11 issue of the Ventura Breeze. And thank you to the author for the extra light and joy your article brought to my day. It feels like an invitation to choose kindness, something we all can do.
Carrie Calvert
---
Breeze:
I posted on Next Door my praise for the intense rain we have had in our area after years of severe drought. We got close to 8 inches in two weeks in two bog storms. It has struck a chord with people who also feel elevated by the rain, though it will not end the drought. It has helped lift my mood, maybe yours too.
This rain and wind and cold may be the results of an erratic Atmospheric River streaming over our area. And others want to assure us it's not a drought buster. OK, I get it.
But do we all get how wonderful this rain is, with gutters and curbs running with water, the barrancas roaring, creeks and rivers flowing, the slick weighted trees bending from the wet, the puddled lawns and gardens and the drenched hillsides and mud-covered roads through them, with the wild animals wet and happy?
This will perk up every living animal and plant, and it perks up me and I hope you too. We will get a spring wildflower bloom, new sprouts of everything, and revived trees and softer ground for the barrage of gophers.
It does not wash away the gloom of 2021, but this river of rain clouds lifted a mood cloud from me, and I am looking out our windows and not worrying that the dry hot winds may never stop.
They have for now, as this uplifting crescendo drowns out the drone of woes, at least for a spell. Hail glorious rain, we welcome you!
Robert Chianese, Ph.D., Emeritus Prof. English, CSU Northridge
website: https://islandviewmedia.net
---
---
New Year Reflection
Our coastal light that turns crescent,
Gestures, the clouds to daydream on the moon,
The tide gathers to push out the fog,
An evening drizzle leaves a mist on New Years.
Proceeds to create a lunar calendar,
The moon is overshadowed  with damp skies,
Our suns early douse of golden colors,
Rinses it clear on a Ventura Morning.
The ocean reflection is New Years best view.
by Jeff Russell
---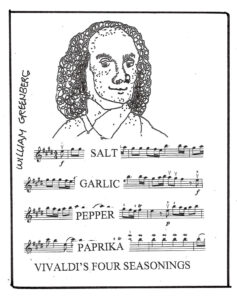 Are you an amateur cartoonist? Send your cartoon to
[email protected].
---
You can't love your country only when you win.
~ President Joe Biden