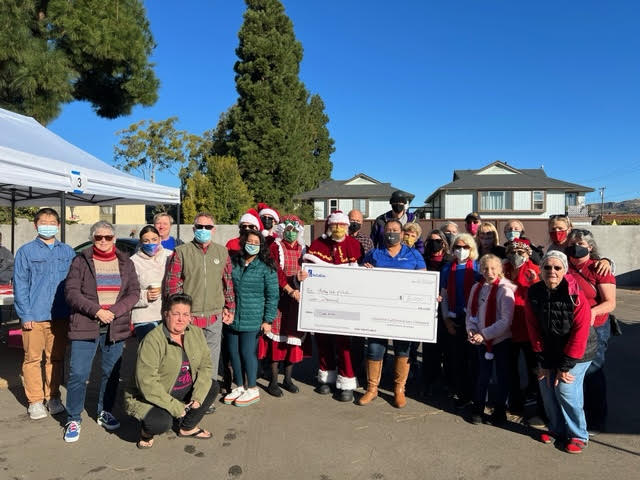 A holiday event for families was held at the Arise Ventura church building located at 831 N. Olive on Saturday, Dec.18.  Pre-registered families picked out a toy for each child, a gently used coat, receive a new pair of shoes for each kid, a lunch, a visit with Santa and a pair of custom made earrings for mom. From 1:00-3:00 pm, there were toys and coats for walk up families with lunch.
This event included Arise Ventura ,Boys & Girls Club of Greater Ventura ,Rotary of Ventura ,Rotary of Ventura – Coats for Kids ,CHP and Kicks for Kids.
Patti Birmingham, CEO Boys & Girls Club of Greater Ventura stated "We served over 300 kids at the event. Each child or teen was provided with a gently used coat, a visit and photo with Santa & Mrs. Clause, a plush toy & candy cane from Santa, Moms and some teen girls got to choose a pair of home-made holiday earrings, pick out some Christmas wrapping and or bows, given a Christmas story book and was able to choose a couple of toys for each child (including teens). Two CHP vehicles and officers were onsite in the afternoon for photos and interaction with the kids. Kicks for Kids also made soft tacos for everyone and families were given a food box, provided by Food Share on the way out."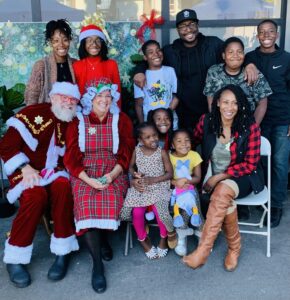 "In addition to providing some much-needed relief to West End families, it was an incredible example of what can be done when non-profits pull together and pool resources. There was such a feeling of warmth and comradery. Between Ventura Rotary, BG Club and Arise Ventura, we had about 50 volunteers throughout the day."
"As we pooled our resources and partners together, the Boys & Girls Club brought Rotary of Ventura, Interact (the High School arm of the Rotary Program), Coats for Kids (Rotary Ventura Program), SoCalGas (who provided a $5,000 grant for Coats for Kids), and Kicks for Kids (a program that provides new sneakers and education programs to underprivileged youth).  Arise Ventura had connections with CHP Chips for Kids, City Kids and Spark of Love who all provided toys for the event and Food Share provided food boxes.  Members of the Arise Ventura church also provided coats and some gift cards for families."
The Boys & Girls Club of Greater Ventura will be opening a Teen Center on the West End in January.  The new center will be located in a building owned by Arise Ventura Church at 831 N. Olive Street and will provide critical mentoring, homework and job readiness, life skill and social wellness programming to middle school and high schoolers on the West End.