The Lisa J. Frank Memorial fundraising event was off to a great start at San Buenaventura State Park. Photos courtesy of Ryan Stephens.
by Amy Brown
Lisa J. Frank was a trailblazer, on and off the road. An avid cyclist, the young lawyer was diagnosed in 1998 with breast cancer at age 36, and quickly recognized that many young adults were not well represented in research, community and overall discussions about the disease. In 2004, she became a cofounder of the cycling fundraising event for breast cancer, YSC Tour de Pink, and a founding member of the Young Survival Coalition (YSC). That first event had just six riders, but it has since grown to be an annual event, with rides of up to three days and 200+ miles on both east and west coasts, with thousands of participants raising awareness, millions of dollars and support and advocacy for young women with breast cancer.
Frank passed away in December of 2020 after a courageous 22-year battle with the disease, and the YSC Tour De Pink was renamed the Lisa J. Frank Memorial Ride in her honor. This popular event's west coast one day ride was again held in Ventura during Breast Cancer Awareness month, and featured hundreds of young patients, survivors and their supporters.
Susan Walker Hull has been both a survivor and a supporter, riding for the very first time this year, and honoring her daughter Brittany, who passed away from breast cancer at age 31 in 2017. "It's been a very hard time in our family, and for me as a mother, losing a daughter and being a survivor, a triple guilt trip, so to speak, so this ride brought me a lot of healing," said Hull. "It was absolutely life changing for me–I haven't had such a bright smile on my face in a really long time. I'll be there every year."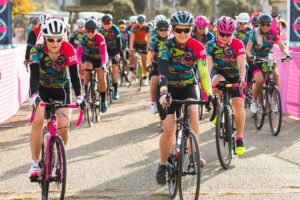 Eva Wirth is a survivor since 2007, and a year after her diagnosis, started riding with the YSC Tour de Pink, and has since participated in 25 rides on both coasts. "Lisa was an extremely dear friend of mine, and she was always very involved with the ride until she got very sick at the end. She had battled metastatic cancer for 10 years, at the end it was like, 'wow, I don't know where this woman gets the energy.' She was extremely mentally tough—she just wanted to beat it," said Wirth.
Many riders are there to support others, like Eric Christianson, who has ridden in the event for the last ten years, at first as a 'ghost rider' in memory of a former coworker, Michelle. "After that, I became more involved every year, kind of carrying the torch, keeping her memory alive, and also just being able to ride alongside these survivors, and feeling like I was part of something special," shared Christianson, who lost his sister to cancer, as well as both parents.
Frank's legacy has fostered advocacy for new legislation, helped connect women with others with the disease, and provided support for their loved ones, according to YSC Director of Marketing and Communications, Jamie Larson. "I truly feel that the spirit of Lisa, her tenacity, her passion for advocacy for younger adults, and in co-founding the Tour De Pink, that her passion is what sets this ride apart," said Larson. "One of the things that's always really profound to me are the young adults affected who ride, and then talk about the experience of this ride being about taking their body back after cancer. They can prove that they can do something challenging and athletic again, it's not just crossing the finish line, there are so many beautiful moments of accomplishment."