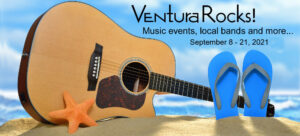 by Pam Baumgardner
VenturaRocks.com
Big congratulations to Tammy and the crew at Grapes and Hops for expanding their beverage selection to include a lovely assortment of mixed drinks, and as a result, the venue is now called Grapes and Hops with a Twist! I have to always send them love as they've consistently offered live music from the start. By the by, it's been great the past few months catching their weekend afternoon matinees with music outside on their patio area on Main Street.
Cadillac Zack shows at Cantara Cellars in Camarillo kick off the month with Sugarmill Slim on Friday, September 10 with none other than Cadillac Zack as the special guest. I became a new fan of Sugarmill Slim when he played with Jimmy Vivino earlier this summer, and speaking of which, at that same show, you may remember my write up about how cool it was to see Fito de la Parra of Canned Heat sitting in for a number of tunes; well it will be a whole night of legendary hits when Fito returns with Canned Heat for a special engagement on October 14. This will most certainly sell out and I understand advance tickets are only $40. You can get more information at CadillacZackPresents.com or text (323) 377-5291.
The 75th Ojai Music Festival runs September 16 – 19 this year with John Adams, Music Director, at the helm. I counted twelve events being held at Libbey Bowl, Soule Park, Redemption Church, and at the Zalk Theatre at Besant Hill School with performance from Rhiannon Giddens, the LA Phil New Music Group, the Ojai Festival Orchestra and more. For a full list of the programs being offered and for ticket information, go to OjaiFestival.org.
More and more music is being scheduled for that stage located at California and Main Street, downtown Ventura. You can catch Warren Takahashi every Wednesday, coming up on Sunday the 12th, it's Dr. T and the Blues Criminals, and the following week they have Simi Rat Pack, Michelle Meadow Love & Christy P. Klotz. See listings for days and times.
Ojai Nest Fest will be held at Lake Casitas on October 2nd with Foghat headling the veteran's benefit. Shaky Feelin, Mike Marino, Rich Sheldon, Other Mother Brother Band, and more will be performing. This inaugural event promises to be family friendly with proceeds benefiting Veterans Independence Foundation. Go to OjaiNestFest.com for ticket information.
I received a special announcement that Surf Rodeo was heading to Texas to partner with the BSR Surf Resort in Waco, Texas for what they calling "A fun filled weekend in October." They added, "Don't worry we will be back in Ventura next summer!"
Quick Notes: The Majestic Ventura Theater is back in the business of live shows this month with Lukas Nelson & Promise of the Real on Thursday, September 9; The SICC House Fundraiser at the Ventura Beach Club on Sunday, September 12, with Blackstar & Easy Death; The High Street Arts Center Theater hosts the 2021 Gala Arts Under the Stars with Mark Wood and the Parrot Head Band on Saturday, September 11; and the next Namba show is Saturday, September 18 with Kavika G and the Kosmic Geckos featuring David Gorospe.
Do you have any music-related news or upcoming shows you want help publicizing? Please send all information short or long to [email protected], and for updated music listings daily, go to www.VenturaRocks.com.