The Ventura County chapter of the National Association of Women Business Owners (NAWBO VC), along with Gold Corporate Sponsor Chase Bank is pleased to announce this month's event: "Get a Seat at the Table". This event will be an expert panel discussion and will be held virtually on Tuesday, September 14, 2021 from 4:30 to 5:30 pm. Registrants may log in early at 4:00pm for social networking to connect or reconnect with their community of friends and business associates.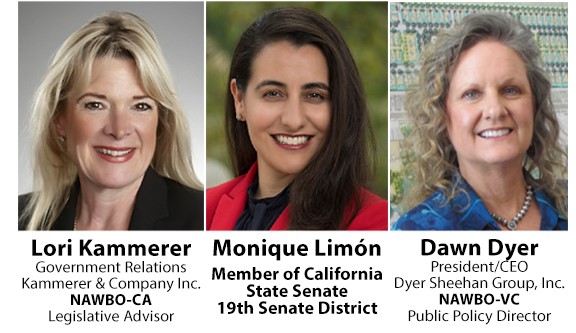 Expert Panel:
Senator Monique Limón
Member of California
State Senate
19th Senate District
Lori Kammerer
Kammerer & Company, Inc., Government Relations
NAWBO-CA, Legislative Advisor
Dawn Dyer, President/CEO
Dyer Sheehan Group, Inc.
NAWBO Ventura County Chapter, Public Policy Director
The history of NAWBO (National Association of Women Business Owners) is rooted in public policy.  The goal, exclaimed NAWBO'S Founding President Susan Hager, was to "Get a seat at the table or build our own table, and make sure to include other women."  NAWBO members helped draft and were instrumental in the passage of the 1988 (U.S.) Women's Business Ownership Act (H.R. 5050) which prohibited discrimination against women in obtaining business credit without male co-signors. More recent, NAWBO successes include sponsoring CA SB 826 to ensure women have a seat at the table on corporate boards.  Engage with Senator Limón, and this esteemed panel of experts to learn more about current legislative measures and the importance businesswomen contribute during these historic times.
Register -Reserve your online access at https://conta.cc/3mTVLYX
NAWBO Ventura County – The local Ventura County chapter of NAWBO is committed to strengthening the wealth creating capacity of its members while promoting economic development within the entrepreneurial Ventura County community. Additionally, the local chapter advocates for innovative and effective change in the business culture, building strategic alliances and transforming public policy for the benefit of its members. Membership is open to women sole proprietors, partners and corporate owners as well as those companies and organizations that support women-owned businesses. Learn more: www.nawbovc.org.