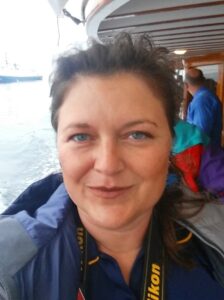 The Ventura Land Trust is pleased to announce that Melissa Baffa has been selected by the Board of Trustees as its new Executive Director. Her appointment comes at a time of historic expansion for Ventura Land Trust, which in the past year has grown to hold nearly 4,000 acres of land designated for conservation and public access in Ventura County.
Baffa, a biologist, has held a variety of nonprofit management positions throughout Ventura and Santa Barbara Counties since 2008, including her most recent role as the Development Officer for Foundation and Corporate Relations with the Santa Barbara Museum of Natural History. Her recent experience also includes serving as a Science Communication Fellow for the Ocean Exploration Trust; since 2015 she has participated in three expeditions, exploring the deep sea off the coast of California and near the Galapagos Islands as a part of this appointment. Her work associated with the fellowship resulted in well over a dozen published articles in newspapers and magazines, and public speaking engagements addressing nearly 3,000 people over the past six years.
Baffa also brings a strong background in education, having taught in the classroom for a decade before transitioning to nonprofit work, and working as an instructor with the Osher Lifelong Learning Institute at California State University, Channel Islands since 2017. She has held board and committee positions for a variety of nonprofit organizations, including KidSTREAM Children's Museum, the Ventura County Leadership Academy, the Ventura County Women's Political Council, the California League of Park Associations, and the Ventura County Women's Economic Roundtable. Baffa was a member of the cohort of leaders recognized by the Pacific Coast Business Times with a 40 Under 40 award in 2013.
Baffa succeeds Derek Poultney, who has served as Executive Director of Ventura Land Trust since 2016. Baffa's appointment adds much needed capacity to the Ventura Land Trust organization during a time of incredible growth and allows Poultney to continue his work with Ventura Land Trust as Conservation Director, leading land acquisition and stewardship.
A lifelong resident of Ventura County and an avid lover of the outdoors, Baffa understands that the protection of open spaces now is crucial to the health of our environment, and to the health of lived spaces.
"We live in a region of incredible biodiversity, and in a world of increasing impacts from climate change, pollution, and habitat fragmentation, the properties Ventura Land Trust protects will provide corridors within which nature can thrive. I can think of no greater honor than working to preserve this amazing place we call home for the people and the nature of today and tomorrow," says Baffa.
"What Ventura Land Trust is doing is so much more than conserving land for nature's sake. It is preserving nature for our sake as well."
Board President Mark Watkins believes that Ms. Baffa's installation as Executive Director positions the organization to become a cutting-edge land conservation organization and provides the capacity needed to continue to add lands and open them to the public. "We are thrilled to welcome Melissa to our team. Her experience and leadership will move Ventura Land Trust forward. We are all fortunate to live and recreate in one of the most beautiful places on earth, Melissa's leadership for the Ventura Land Trust will help to protect that beauty and provide a healthy environment for current and future generations."
The mission of Ventura Land Trust is to permanently protect the land, water, wildlife and scenic beauty of the Ventura region for current and future generations. Learn more and become a member at www.venturalandtrust.org.