Father Serra by Bernie Goldstein
Sam (Bernie) Goldstein died Friday December 18, 2020 of heart disease at the age of 88. Bernie was born August 9, 1932 in San Francisco.
Bernie's father, Max Goldstein sold men's suits and played clarinet in dance bands during and after the depression. His mother Celia escaped Russia as a child.  Bernie and his sister Dot came of age in wartime San Francisco.  Bernie met Doris Perrin on a double-date in 1952, and they were married until her death in 2019.
As a kid in San Francisco, Bernie took pictures and developed them in his basement darkroom.   In the navy during the Korean War he served as a reconnaissance photographer.  In retirement his photographs won awards at the Ventura County Fair, at the Ventura County Camera Club and in various contests.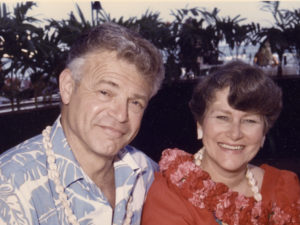 He was a contributing photographer for the Ventura Breeze. Bernie loved being a member of the downtown Rotary Club.  Bernie also loved traveling with his wife Doris through the US, Mexico and Canada with his Airstream Club. In earlier days he was an avid boater and water skier and loved traveling, camping and boating with family and friends.
Bernie began his career at Sears Roebuck and Company selling sewing machines.  Bernie advanced through the ranks at Sears to become a fixer for the company in various cities by  helping to design marketing programs to fit that  local store.
The company brought the family to Ventura in 1969. Bernie made many lasting friendships from his work at Sears.  Upon retirement from Sears, Bernie started a local real estate brokerage Vims Realty where he loved his work and the people until his retirement in 2007.
Bernie was an extrovert who made friends easily because he searched out fun from the mundane.  He sincerely liked people and wanted the best for them. He was a reliable friend to those lucky enough to share time with him.
He is survived by his daughter Delinda Schlunegger  (husband Mike), his daughter Denise Wenger and his son Dennis Goldstein  (wife Marian Butler).  God-children were Joanne Muldoon, Janet Petty and Caryn Lozada.   His grandchildren are Jessica Wenger, Danielle Schlunegger-Warner (husband Chris), grandson Shawn Wenger (wife Kelley) grandson Branden Wenger (wife Nicol), and great grand children  Kai Wenger, Elton Wenger, Peyton Wenger, Aniston Wenger and Brixton Wenger.  He also loved the Perrin sisters and their families, the Thompson family and the Levin family.
In lieu of flowers, the family asks that you donate to your favorite charity.