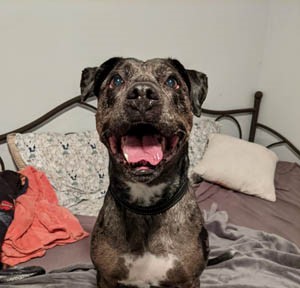 Hi: I'm Desi, a gorgeous almost 11 year old Catahoula/American Staffordshire Terrier mix who loves treats and walks on the beach. I was adopted into what I thought was my forever home, but it wasn't meant to be. I became too possessive of the daughter. I felt I needed to protect her from everyone.
I was one of many dogs rescued from a raid in El Rio. Those days long behind me, I'm waiting for someone to come and take me home.
I'm house trained and would do best in an adult only home or a home with older respectful children. I don't seem to care for any males. I don't want to be left alone, so I need someone who is usually home or can take me along too. I'm not a fan of small female dogs or cats and need to be the only dog in the home. I know some basic commands but could use some leash work. I tend to pull and I'm very strong.
I'm grateful to be given a chance to know the true meaning of being a cherished member of a loving family. Canine Adoption and Rescue League C.A.R.L.CARL Adoption Center-call 644-7387 for more information.
---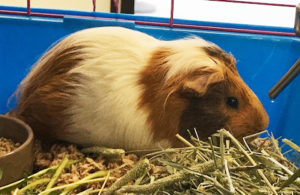 Nugget ()A763600 is one of several adoptable guineas pigs currently as VCAS. Guinea pigs make great pets. They live for several years, so you can enjoy them longer than most other rodents. They have different personalities and are very vocal, making it easy to know their individual identities and get attached. They are fun to play with and very entertaining. Most guinea pigs even like to cuddle. Ventura County Animal Services – Camarillo location – 600 Aviation Drive