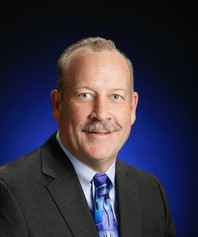 In 2009, I accepted the role as the CEO/President of Ventura County Credit Union, a position I held until my retirement this year. During my tenure the credit union doubled in size to over $1B in assets and membership increased by more than 50%. I had a fortunate career that started in financial services right after graduation from Cal Poly Pomona. At 35 years old I became the CEO of one of the 50 largest credit unions in the state.
Nearly all local governments are going to be in for a financial rough ride due to the economic impact on business from the pandemic. The estimate for the City of Ventura is an $11M hole in revenue for this year. The worst part is the hole continues until we can get our local businesses up and growing and we get people back to work.
Executive experience is an incredible asset during times of stress and discord. I have managed through recessions and the difficult budgets they create. Business growth will lead us out of these tough times and I have a track record of growing companies. Some talk about growth, I have done it.
Turning to public safety, the Ventura Police Department enjoys an overall reputation of fairness, transparency and professionalism. They just completed their strategic plan that identifies their mission, values and vision. It lays out the priorities of the department and commits to community policing, professional development training on how to de-escalate tense interactions. We are fortunate that Chief Schlinder and Assistant Chief Dickey will lead us through these challenging times.
A key priority for the future of Ventura is the protection of our beaches, the ocean, the hillsides and our waterways. While many are talking about the updating of the General Plan, we need to also concentrate a lot of effort on building a Coastal Plan. We owe it to ourselves and the generations that will follow, to protect our coastline. In addition, we should continue our progress to improve bike lanes and trails. I can't wait to see the improvements in the bike path and pedestrian walkways near Surfer's Point and the Fairgrounds. I believe we should push the State to improve their path and walkway through San Buenaventura State Beach.
The General and Coastal Plans need to align smart growth with our need for affordable housing in an environment of water crisis and recent fires. Constant feedback from the community should be the hallmark of building these plans. People will support what they help to build.
I will reach out to all members of the community as my endorsements and recognitions reveal. I am fortunate to be recognized by the following organizations NAACP, Mixteco, Hispanic Coalition and the Credit Union industry.
In addition, I have earned the endorsements of Congresswoman Julia Brownley, State Assembly Members Monique Limon and Jacqui Irwin. Please visit my website at JoeSchroederForCityCouncil.com to see over 20 endorsements from leaders in education, police, the community, seniors and the Democratic Party.