Bessie O'Connor (mother of Skyla shown sorting cans) also volunteered. Skyla is a 4th grader at Pierpont Elementary. Photos by Bernie Goldstein
The Cheers for Children campaign, which is entering its 67th year, is designed to help children and families of the Ventura Unified School District (VUSD). Cheers for Children began in 1952 when teachers and an administrator identified a student and his family in need of food over the holidays. Cheers for Children has grown to a community campaign to assist over 350 families over the holidays and assist with additional needs, as they are identified throughout the year.
The community was there to help with sorting and boxing the food drive items for distribution on Friday, December 20, at Balboa Middle School.
Photographer Bernie Goldstein stated "Upon entering the cafeteria at Balboa Middle School, I was impressed with the huge quantity and uniform size of the boxes lining the two walls of the cafeteria, each box will be filled to the brim with mostly canned food items for needy families within the Ventura School district.  Over 350 boxes were filled by days end and will be delivered to the needy families who were identified during the year in time for the holidays.  It's estimated that over 200 students and adult volunteers were actively sorting and filling the boxes."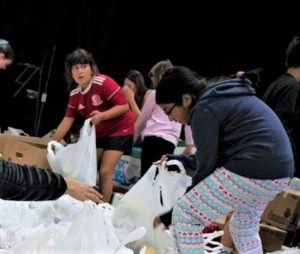 All VUSD schools collected canned and dry goods for the holiday food boxes. The District also accepted monetary donations, which will assist in the purchase of holiday hams and will go towards additional family needs throughout the year. There is a tremendous amount of work that goes on "behind the scenes" to make this event a reality.
 "It is our hope that through the Cheers for Children campaign we can bring joy, through a warm meal, to our students most in need" stated Dr. Roger Rice, Superintendent.