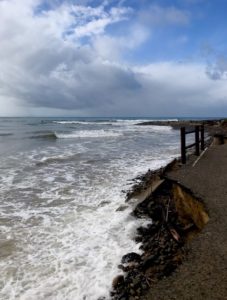 Community members are invited to join the City of Ventura for a walk along the promenade to learn about tides and how sea level rise is impacting our local coastline during the king tide. The walk will take place on Saturday, January 11 from 9 am to 10 am. Please meet at Promenade Park along the Ventura Promenade at the end of Figueroa Street and Shoreline Drive.
The term king tide is used to describe an especially high tide event, when there is alignment of the gravitational pull between the sun and moon. When king tides occur during floods or storms, water levels can rise higher and have the potential to cause great damage to the coastline and coastal property. King tides are expected along the Ventura coast on the following dates and times: January 10, 8:18 am, January 11, 9:00 am, January 12, 9:43 am, February 8, 8:10 am, and February 9, 8:52 am.
Can't catch the walk but want to learn more? California State Parks will be hosting a Facebook Live broadcast of the king tide along the California Coast from San Diego to Mendocino. Tune in on January 10 from 10 am to 11 am at www.facebook.com/CaliforniaStateParks/. Questions? Call 805-339-4317.