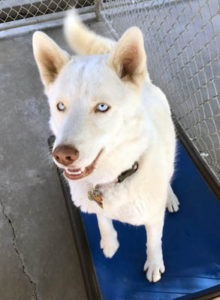 Hi: I'm Snowflake a beautiful 6 1/2 year old Husky in need of a new home because my owner abandoned me. I don't understand why, but I'm thankful C.A.R.L. will help me find my true forever home.
I'm an active girl who is playful and outgoing, but I need to be your one and only. No other dogs or cats in the home please. I'm crate trained and know some basic commands and walk well on leash. I was in a foster home for a short while, but I was jealous of the small children in the home getting attention. I wanted my foster mom's and dad's attention all to myself. I'd grab something to chew on that I knew I shouldn't just to get them to come to me. I need a home with no small children.
If you're looking for one great gal, stop by and meet me. CARL Adoption Center-call 644-7387 for more information.

---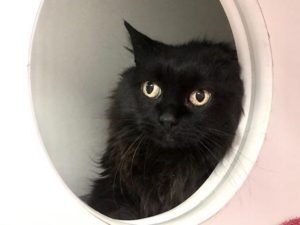 Sweet gentle Cornia is always purring. She makes a cute chirping noise (like
a bird) when she's happy. Some think she's a bit goofy looking, but we think
she has an endearing look which fits her adorable personality. Corina can be
found patiently waiting for you at our beautiful Simi location in kennel
#929. Ventura County Animal Services – Simi location – 670 W. Los Angeles Ave.