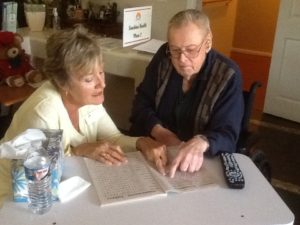 by Jill Forman
Do not cast me away when I am old;
Do not forsake me when my strength is gone… Psalm 71
In Ventura County there are approximately 8,000 residents of long-term care facilities: nursing homes, assisted living facilities and board and care homes. Almost one-half of all Americans over 65 will spend some time in a long-term care facility. Sixty percent of nursing home residents have no family or friends who visit or check on them.
This is where the Ombudsman program comes in. Ombudsmen are volunteer advocates for the rights and needs of elderly and disabled residents. They investigate and resolve complaints, serve as intermediaries, and work to assure the highest quality of life and care possible. They benefit the staff as well as the residents; their early intervention can help small complaints from becoming big ones.
They not only assist those without families; relatives and friends as well as the residents themselves can contact the program. Families often are also suffering from trauma and grief. Ombudsman can provide pre-placement counseling to alleviate some of the difficulties.
Sylvia Taylor-Stein, Executive Director for the past 20 years, says that this is "…great work." She came from the private sector and was looking for something to "…bring more meaning to my life." She beams as she talks about the program, the volunteers, and the procedure that has been established to ensure everyone is contacted.
Every nursing home in the county, nineteen of them, are visited by a volunteer weekly. Any new resident gets a visit from an Ombudsman who gets to know the person, their situation, and if any help is needed. Many residents have a real sense of loss and grief, having given up their home and independence. It is vital for them to realize that they have rights as much as anyone else. They need to feel they are in charge in some areas; so much of their life is out of their control already. Visits to facilities are unscheduled and unannounced. The Ombudsman poster is posted in plain view in all facilities. All services are free of charge and confidential.
If someone has a complaint, the volunteers will talk to the resident, staff, families and other involved people. They are what Taylor-Stein describes as "Express wish advocates," acting on behalf of the resident. Their goal is to resolve problems to the satisfaction of the resident. If there is a list with multiple complaints, they will help the resident prioritize. It's also important to realize the advocate may not be able to solve all problems.
All advocates, staff and volunteers complete 51 hours of core training and mentorship, as well as continuing education. There are currently 53 volunteers and 6 staff members. Advocates come from teaching, business, medicine, every area of life.
Ombudsman 805-656-1986 Afterhours Crisis Line 800-231-4024