Dear Editor:
What a waste of time, energy, and insults. Trump hears nothing he doesn't want to hear. He loves street fights. He loves slinging mud, and other matter, just for the sake of making noise.
The, only, way to make Trump uneasy, is to ignore him. He doesn't exist. He isn't worth an iota of attention, or awareness. Trump is a nothing.
One treats nothing by doing nothing, saying nothing.
S. Douglas
S: Wait a minute didn't you just write about not writing about him by writing about him?
---
Dear Sheldon,
I disagree with your opinion that gun show should be allowed at the County Fairgrounds. To do so so soon after the recent shootings in Thousand Oaks shows a desensitization and insensitivity to this critical issue of contemporary Society.
Regarding Beay letter to Breeze on June 18, 2019. Excellent and concise. Why are government and religious entities involved in our personal health care decisions?
Lou Vigorita Ventura
---
Dear Editor:
I am writing to commend a teacher, Sheila Bartsch, who has passionately taken up the torch to teach tolerance and the benefits of diversity to her 2nd grade students. Ms. Bartsch teaches at Pierpont Elementary. She has been an educator in the district for 25 years. It began when Sheila happened upon a book titled, "My Totally Intolerable Blocks." She was impressed with the book not only because of its message, but also because it was written by sixteen-year-old, first time author, Emily Ford, who was abandoned at birth in a remote village in China because of her sex. This young author wrote the book specifically to teach tolerance and the benefits of diversity to young children using the personification of a child's block set. (go to www.raisingtolerance.com for more info)
Sheila Bartsch read Emily's book and immediately recognized utility in the author's story. Consequently, she decided to use the book as a springboard to discuss bullying behavior and the importance of tolerance to her young students. Ms. Bartsch's passion for teaching these social values summoned her creative side which was natural given that she also holds a degree in Art History. Since reading the book, Sheila has developed novel methods of how the author's book can inspire children to appreciate their differences and work together as a team for the common good of everyone.
Sheila Bartsch should be recognized for her efforts, for her passionate teaching, and immense creativity. As a result of Sheila's enthusiasm, the author donated thirty books to Pierpont Elementary School. By example, Sheila Bartsch has not only encouraged this young author to continue to proclaim her passion for diversity, she also reminds adults that it is the responsibility of every one of us to teach tolerance to our youth. Thank you Sheila Bartsch for going the extra mile. You are to be commended!
April Marano
---
Sheldon:
Thank you for your great local paper.  You asked a question, "Why are Christian conservatives against abortion?"
The answer is that we Christians/Catholics/Episcopalians believe that life begins at conception and the Mother is carrying her baby boy or baby girl, a son or a daughter, and we do not believe in murder of the innocent children.
A good local pro-life group that saves babies is Life Choices Pregnancy Clinic of the Ojai Valley.  Check out their website.
The movie "Unplanned" at Collection theater was excellent, a true story about a former Planned Parenthood Clinic Director.
Betsey and John Stewart IV.
Ventura Keys
---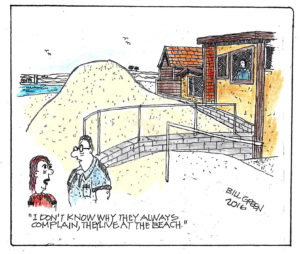 ---
Laugh at yourself first, before anyone else can.
~ Elsa Maxwell