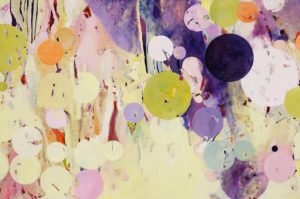 A Conversation with Peggy Pownall. Sunday, May 19, 2019 3 to 4:30 p.m.
Museum of Ventura County, 100 E. Main Street, Ventura.
To learn more about Peggy, visit www.PegPownall.com
Los Angeles based artist, Peggy Pownall, is a mixed media painter and has been an Artist-in-Residence at Studio Channel Islands since 2008. She received her B.A. from Pepperdine University and has undertaken further studies at Studio Art Centers International in Florence, Italy, an experience that has had an extraordinary impact on her work. Pownall's work combines a bright color palette with unconventional objects such as old maps, journals, sewing patterns, blueprints, photos, notes and books.
Free to FOTM members, $15 for public; $10 for seniors.Special invitation to educators and students: The Artist Spotlight is open to students attending as a class assignment free of charge. FOTM is happy to assist with tracking attendance and sign-in sheets. Reservations required. To RSVP visit www.FocusOnTheMasters.com or call 805.653.2501.
AfterGlow Fundraising Event: The public is welcome to join the artist for a celebratory fundraising dinner at the Ventura home of Karen Hoffberg. Paid reservations are required prior to May 13. We expect this AfterGlow to sell out. Maps will be given to paid guests at the interview.
$30 FOTM members, $40 Non-members.
#