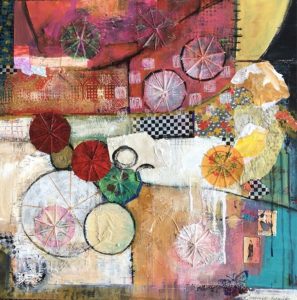 at Fox Fine Jewelry May 18, 6 – 8 pm
Melanie Roschko and Connie Tunick will display their artwork in a show titled "Wordless Conversations" at Fox Fine Jewelry from May 16 to July 7,with an Art Reception on May 18 from 6 – 8 pm. Also present will be the nonprofit organization, Canine Companions for Independence.
Melanie Roschko has a diverse background, from having studied Landscape Architecture at UCLA to later becoming a PSIA certified ski pro and teaching skiing lessons in Aspen, Colorado for 20 years.
When Connie Tunick begins to paint, she embraces the freedom to experiment with new techniques and media, often surprising herself with where the creative process takes her.
Founded in 1975, Canine Companions for Independence is a non-profit organization that enhances the lives of people with disabilities by providing highly trained assistance dogs and ongoing support to ensure quality partnerships. To learn more read the Pet Page in this issue.
Fox Fine Jewelry
560 East Main Street
Ventura, CA 93001
(805) 652-1800