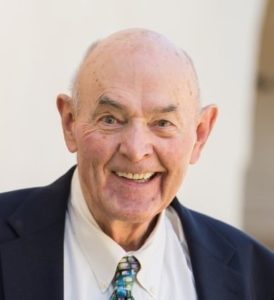 Ferguson Case Orr Paterson LLP (FCOP), recently announced the passing of long-time partner, Theodore J. England, who joined the firm in 2001.
Outside of his work, England was committed to volunteering, serving as a board member at Interface Children Family Services, the Salvation Army and St. John's Healthcare Foundation. Together with his wife Annette, he also managed his 38.5-acre ranch in Santa Paula, growing approximately two dozen different crops from apples to walnuts.
England attended Oxnard High School before earning his undergraduate degree from the University of California, Santa Barbara in 1963 and continuing his education at the University of California, Berkeley, Boalt Hall School of Law. Admitted to the California Bar in 1967, he was a frequent lecturer on real property law for the California Continuing Education of the Bar program.
"Ted's dedication to his colleagues, clients, family and friends was truly special. He was generous with his time and experience, sharing wise judgment on matters both legal and personal," said FCOP Managing Partner Michael Velthoen. "As an attorney, Ted's scope of expertise on the practice of law was unmatched. We will miss Ted greatly."