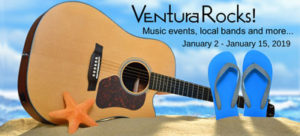 by Pam Baumgardner
VenturaRocks.com
Happy New Year! I'm wishing you a year of prosperity, love, friendship and of course lots of live music!!
Let's start off the year right by helping Crooked Eye Tommy get to Memphis to compete in this year's International Blues Challenge by attending a fundraising concert at Grapes and Hops on Saturday, January 5. Along with a $20 donation to help out, there will be raffle items including one of Tommy's guitars. Performers slated on the bill include Michael John, Joey Delgado, Mikey Mo, Ian Mcfadyen, Jodi Farrell, Kelly Zirbes, Shawn Jones, Perry Robertson, Ray Jaurique, Dan Grimm, Eddie Dies and more! The show is scheduled to start at 6 pm.
The Channel Cities Jazz Club is moving their monthly shows to the Pierpont Inn this year. Their first performance will be Sunday, January 27 (1 pm) with an open jazz session.  Headlining will be Jimmy McConnell's Super Big Band. It's only $10 for members, and $15 for nonmembers.
Congratulations to the Majestic Ventura Theater for partnering with Live Nation on booking future shows this year. We'll be looking for upgrades on the facility including their sound system. Meanwhile don't miss the benefit show for SPARC hosted by Malcolm McDowell on Saturday, January 19, with performance from Lacy J. Dalton with Dale Poune.
The good folks from Squashed Grapes will continue to book jazz shows at the Hong Kong Inn while the current owners look for new owners to take over the lease. Jazz Jams return to Tuesdays nights, Dogfish plays Wednesday, January 9, Coda on the 10th, Ben Clatworthy & Friends on the 11th and it's the Barrelhouse Wailers on Saturday, January 12.
Quick Notes: The Jerry McWorter Trio return to their Tuesday night residency at Copa Cubana on January 8; Rapper Shwayze plays Discovery on Wednesday, January 9; Bluegrass jams continue in the New Year on Thursdays at the Boatyard Pub in the Ventura Harbor; The Hell Toupees and Sick Boy play Sans Souci, Friday, January 11; The Ventura Music Festival Student Jazz Competition will be held at Namba downtown on Sunday, January 13; The Swillys will be entertaining as you enjoy brunch at Traveler's Café on Sunday, January 13; and finally, Café Fiore will not be having live music on Thursdays for the time being.
Don't forget to tune in for The Pam Baumgardner Music Hour airing on CAPS Media's KPPQ-LP every Tuesday and Friday at 5 pm and Sunday's at noon. I'm grateful for this platform to play artists who might not have the opportunity to have their music played on the radio as I play artists out of the 805 and artists who come to the 805 to play. Listen in at 104.1 FM in and around Ventura, or online at CapsMedia.org/Radio.
Do you have any music-related news or upcoming shows you want help publicizing? Please send all information short or long to [email protected], and for updated music listings daily, go to www.VenturaRocks.com.