Community members came together to honor Neal Andrews. Photos by Bernie Goldstein
by Jill Forman
"Pay Tribute to This Wonderful Man" that is how Kathy Powell, the chair of Lift up Your Voice, worded a reminder for a celebration of the career of Neal Andrews. Andrews has served on the Ventura City Council since 2001, and is currently mayor. This is his last term.
Community members came together on Tuesday evening October 30 to honor Andrews for his tireless activism in the area of homeless services and celebrate what he has meant to those who often felt they were alone in their mission to help the less fortunate.
Attendees included local clergy, friends and neighbors, members of several congregations, city officials, social service workers, and homeless individuals.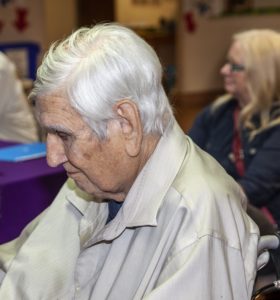 The event, jointly sponsored by the Unitarian Universalist Church and Lift Up Your Voice, the church's homeless advocacy group, was an outpouring of appreciation and gratitude. Reverend Dana Worsnop of the UU Church, said, "Neal gas been such a great partner working on issues of homelessness for this community and the city council. The church is thrilled to be able to host this party."
Purple star-shaped balloons decorated the UU community room, ad a banner that said "Thank You Neal." About 50 celebrants shared appetizers and talked about their experiences with Neal and the long road it has been to have a permanent homeless shelter in the city. As Andrews' political career is ending, after 25 years of struggle, that shelter is on track to open within the next year, an event that would never have happened without his unflagging support.
"Neal has been our friend and our advocate for the city with his focus on the vulnerable," said Kate Mills, a nurse who started and ran the One-Stop Drop-In Center when she worked for Public Health.
"It is rare," said Sue Brinkmeyer, the chair of the Homeless Prevention Fund, "That somebody gets to hear first-hand how much he is loved and admired by so many."
After a welcome by Rev. Worsnop who emphasized what a "strong, wonderful partner" he had been, Andrews was presented with a memory book: friends, colleagues and admirers had emailed tributes to Powell and they were mounted in a book by Kappy Paulsen, a UU member and scrap booker. Powell stated that the book is really a tribute to everyone attending, all of who had worked along with Neal to help those who need assistance.
Then the mike was opened; tributes and tears flowed. Andrews was praised for his insight and dedication, a champion who has modeled how to serve the community. An honest man, with wisdom and gravitas, who stands up for what is right even when he was the only one. "We love you…thank you…you make me want to be a better person."
Of course, there were laughs too; someone remembered how Andrews stayed until 4 a.m. at a council meeting. "Never again," he joked. It was mentioned that community activism is a 7-day-a-week commitment.
Karol Shulkin, who worked for Homeless Services, recounted a task force meeting with the members desperately trying to figure out how Ventura was ever going to get a shelter. Andrews said, "We need a champion." And that's what he became.
Mills read a list of jobs and accomplishments Andrews had held over his long career of service. And then Andrews spoke, with his voice breaking and interrupted by cheers. He made an impassioned speech that the attendees need to remain involved in public life. If something is wrong, speak up against it. If something needs doing, do it. And don't give up. Two standing ovations followed.
It has been said that Andrews has "The soul of a Quaker and the heart of a lion." This is one lion whose roar has shaken people up and made a difference.
Thank you Neal.