Many hundreds remembered the many victims of hate and re-affirmed their belief at Temple Beth Torah. Photos by Bernie Goldstein
by Rabbi Lisa Hochberg-Miller
On Friday, Nov. 2, at Temple Beth Torah, prayers, songs, words of healing, and unity in response to the violence in a Pittsburgh synagogue were expressed. Ventura clergy, civic leaders and people of good faith, remembered the many victims of hate, re-affirmed our belief in goodness and humanity, and welcome this Shabbat, a day of peace.
The outpouring of anger and grief at the massacre of 11 people in the Tree of Life Synagogue in Pittsburgh on October 27 tells us that people of all faiths are as dismayed at the racism, gun violence, and hate speech that is becoming "hate d'jour" in our country.
It can be a church, a mosque, a temple, a synagogue, a pre-school, a nightclub, a high school—and it has been all these, multiple times now– because hate, when fanned by fear, so easily becomes violence.
My people is a people acquainted with Anti-Semitism. I am asked, why do people hate Jews, and I can only respond, why do people hate? We know the traditional stereotypes of Jews plied by anti-Semites. But our contemporary political world coupled with social media has fanned anti-Semitism, from a radical left bent on delegitimizing Israel's right to exist, to right-wing nationalists who see Jews as foreign invaders.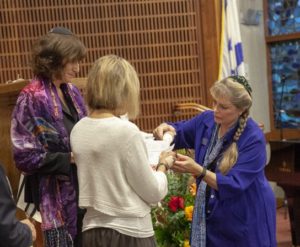 Our college campuses are exactly where alt-right groups go to recruit young people and spread hateful ideology. We have watched the internet become a cesspool of filth, with language and visuals that are so repugnant that we can't even describe them. There were almost 3 million anti-Semitic tweets in the year before the last election. FBI and Anti-Defamation League Statistics tells us the facts of this growing hate and the violence it begets: anti-Semitic incidents rose almost 60% in 2016, more than any other religious minority.
We are not the only victims of hatred and racism- Anti-Muslim crimes are up 19%, and in racially motivated hate crimes, African Americans were targeted in 3,489 race crimes, about half of race crimes in 2016. The neo-Nazi march in Charlottesville in August 2017 didn't come out of nowhere. It was the expression of this hate: Noe-Nazi chants of "Jews will not replace us", the beating of a black man DeAndre Harris, the plowing of a car into civilians, taking the life of Heather Heyer. There are almost 1,000 hate groups that exist in America, and many that describe themselves as militias. Fear, and inflammatory speech, coupled with high powered assault weapons. Is this our vision of America? Our years of complacency must be over.
It is enough to lose 11 innocent people for being in prayer on a Shabbat morning. It is incomprehensible that Vicki Jones and Maurice Stallard should go to their Kentucky Kroger's to buy food for their families and be murdered for being black. I am left with no words that a prayer service at Mother Emanuel AME Church in Charleston should have welcomed a white racist three years ago into their circle and then have 9 members including the pastor murdered by him, in his hopes of starting a race war. And the list goes on and on, especially when we widen the circle from racial and religious intolerance, to political intolerance, gender intolerance and general hate. Marjorie Stoneman High School, the Pulse nightclub, Las Vegas concert venues, where does mass violence end?
Our Jewish community grieves these recent deaths, and all these deaths, as do good people across this country and the world. After each massacre we hope that things will change. If we have learned anything, it is not to be complacent. There can be no co-existence with racism, or anti-Semitism, in this country or anywhere. There is no political future for a country that sees every else as "the other" and to be feared. We are better than this. These murders, and the climate that allows this violent culture to thrive, is tearing at the fabric of our country and our democracy. Like the mourner's ribbons worn by the family members in Pittsburgh to signify that someone had been torn out of their lives, something is being torn out of the heart of decent America. Judaism teaches that we are to turn grief into good deeds. It is time, again, to speak out, for the country we want to live in.
Temple Beth Torah is located at 7620 Foothill Road.