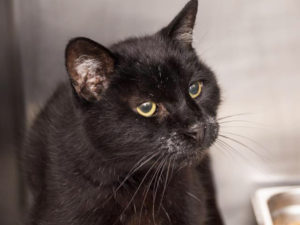 Remy is just as wonderful as can be. If you ask to meet him, you'll see that he is sweet, gentle and loves to get head scratches from you. Look into his eyes and you'll see a heart of gold under his black fur. His story is a bit of a sad one: Someone dropped him off at a pet store and left him there.
The employees had no choice but to bring him to the shelter. He is still hopeful that there's someone out there who will love him and make sure he is never abandoned again. Ventura County Animal Services – Camarillo location – 600 Aviation Dr. Remy A650841
---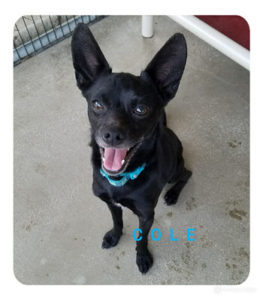 Hi: I'm Cole 2 a cute 3 year old Chihuahua X who was rescued from Animal Services. I'm grateful to be given a chance to find my forever home.
I'm currently in a foster home with 2 other small dogs. I respond best to a calm structured environment. I am a bit fearful and anxious, once I get to know you I am a fun and sweet dog but I do take a while to get used to new people and dogs. It should be on my terms, at my own pace. I have received training and I'm walking well on leash. I am beginning to be comfortable with one of my foster siblings, but needed to be separated for 3 weeks. On walks when encountering bigger dogs I do show some anxiety and will bark and pull, but my foster mom is working with me on not doing that.
I would do best in a quiet home where someone is home most of the time. At this time it is not recommended that I go to a home with children. While I love attention from the person that I trust, I am not a lap dog.
If you're a patient, loving person who is willing to continue with my training, please stop by and meet me. I can't wait to start a new chapter in my life making wonderful memories with my special someone. Canine Adoption and Rescue League C.A.R.L.Adoption Center-call 644-7387 for more information.