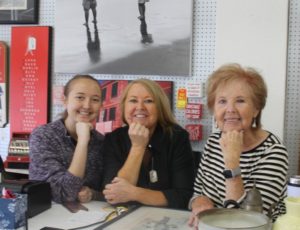 by Richard Lieberman
Lynn Dralle originally from Bellingham, Washington has opened Lynn's Consignment Shop, 1975 East Main St. With her mom and daughter working together the family has put together an impressive site. Specializing in antiques, collectables and a wide variety of consignment pieces.
Lynn a talented author has penned several instructional books about selling on eBay, some of the titles include "The 100 Best Things I've Sold on eBay", "Money Making Madness", The 3rd 100 Best Things I have Sold on eBay, and "The 4th Best Things I've Sold on eBay".
Lynn's saga begins with her late grandmother Cheryl Leaf who was running an antiques business from her home starting in 1950. "I learned about business and life from her" said Dralle. "I went to antique shows and sometimes even missed school." added Dralle. Dralle has earned a BS in Business Administration from USC, and later earned an MBA from USC.
A first time visit to Ventura convinced her she found the right place to live and open her business. "I fell in love with Main Street, I knew this was right" she said. Clean, classy and well-priced this new Ventura business is a great addition to the midtown area. " I am so happy I found this place." She said.
The store opened on March 1st and has already exceed their monthly cash flow projections by 25%.
"My location at 1975 E. Main Street is the perfect place to start and may be all I need if I can turn my inventory as fast as I think I can", Lynn added.
"Our marketing plan includes advertising in the Ventura Breeze, and word of mouth which is so important in a city like Ventura."
We welcome Lynn and her family to Ventura. Stop by and see this beautifully arranged store, and browse some of Lynn's treasures.