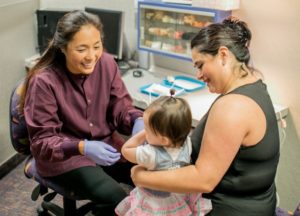 by Mira Reverente
Remember those childhood trips to the dentist? It was made or break, smile or cry for most people. They either left a positive impression like after a visit to Dentist Frederick or it went the complete opposite way.
Blast from the Past
For these two pediatric dentists of Oxnard Children's Dental Group (OCDG) otherwise known as the "spaceship dentists," positive childhood influences and experiences definitely played a significant role in their choice of career. As we all know how important oral care is, it is important to instill this in your child at a young age. Whether it comes to brushing their teeth twice a day or visiting a Pediatric Dentist in Vineland (for a general checkup), it is good for them to understand the importance of this. When kids start getting into a routine, they are likely to continue this as they get older, which is what we want.
She always knew that the healthcare profession was for her but the decision-making was shaped by a positive childhood experience. "I had a great pediatric dentist growing up," says Dr. Cathy Chien, a native of Thousand Oaks.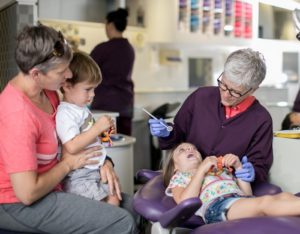 For Dr. Betsy Kaplan, it was an unusual fascination with dental visits in her hometown of Waterford, Connecticut. "I always liked going with relatives to see the dentist," says Dr. Betsy, who has been in practice for 19 years.
Second Generation Patients
"We have a big family environment here," says Dr. Betsy of their practice comprised mostly by women and moms of varied ages and backgrounds like her and Dr. Cathy.
The family environment has also attracted a second generation of patients whose parents used to see Dr. Betsy and the other staff who have been with the practice for two or three decades. "One year they're in elementary school and suddenly they're in college or married, and we're seeing their kids," she says.
"It doesn't feel like work," says Dr. Cathy, a mom of three boys, who also serves on the board of the Boys & Girls Club of Greater Oxnard and the Santa Barbara-Ventura County Dental Foundation.
The Tooth Fairy Reaches Out
If the popular legend was to be believed, the tooth fairy would be in several places at the same time, 365 days out of the year. Not quite to that extreme but OCDG's very own tooth fairy does make the rounds.
According to Dr. Cathy, the tooth fairy does oral hygiene education talks at local schools, health fairs and even at the local Barnes & Noble bookstore. "Dr. Betsy and I, along with the other dentists, also do free, year-round dental screenings in our offices, for kindergartners," she says. You can also pick-up this type of care at the Dentist West Long Branch if this is closer to you.
Without the tooth fairy this time, the staff has also embarked on a number of dental missions to Guatemala. Initiated by founding partner Dr. Mark Lisagor, the team takes basic dental hygiene supplies to an underserved community in Rio Dulce, Guatemala and also offers routine dental treatment to children in a rural clinic setting.
For the past five years, a $500 college scholarship has been awarded to a graduating high school senior. For this year, the requirements are: the applicants must be graduating from high school in 2018, must be current patients who are are planning to attend a post-secondary institution and the application must be turned in by August 17. "We choose one winner every year," says Dr. Betsy.
On to Ventura
The Ventura Children's Dental Group is slated for a mid-April opening, bringing a touch of its family atmosphere and community involvement to the Ventura College area. Look for the same team of warm, smiling faces!
For more info, visit oxnardchildrensdentalgroup.com or like them on https://www.facebook.com/oxnardchildrensdental