Sheldon:
Thank you again dear Sheldon & all of your crew that works so hard on our fabulous hometown paper, the Ventura Breeze!
For the second time this year you helped a lot of folks find our PD Support Group meeting including a wonderful lady from Sacramento who was visiting Ventura. She told us that she had picked up a Ventura Breeze, was so impressed to find our detailed article in print and decided to see how our support group worked as she coordinates one in Sacramento. We also had the second largest number of attendees this year with just over 60 folks. So thank you again for the generous space and support you give the Ventura Parkinson's Disease Support Group! 🙂 We love the Ventura Breeze!!
Yours truly, Patty Jenkins
Volunteer Coordinator
Ventura Parkinson's Disease Support Group
Patty:
And we love you.
---
Dear Sheldon,
I'm not sure I formally thanked you for our Kids' Arts coverage in the Breeze. Soooo, thank you for the 4th of July & Surf Rodeo articles & pictures. We appreciate what you do to keep Ventura informed & in the know.
Lynne Thurston
---
In our last issue we had the article "Disaffected seniors are fighting for their mobile homes" by Jared Brewer. Some of the article got cut off. Computer's fault I'm sure. Here is the rest of the article.
It's not pretty for a bunch of seniors to be going down the street pushing shopping carts. But I've seen them out there. And government affordable housing is closed for 10 years. We'll all be dead by then."
Many disgruntled residents have turned to political activism to voice their concerns. Hence, the foundation of the Ventura Manufactured-Home Residents Council (VMRC), which assembles delegates from nine of the dozen or so mobile homes in the city of Ventura to confront salient issues. The council coordinates with the Golden State Manufactured-Home Owners League (GSMOL), a statewide volunteer organization that promotes resident rights primarily through legislative advocacy. The VMRC convenes the third Wednesday of each month (barring August) at one of the nine mobile home parks. For more information, including the location of next month's meeting, contact President Craig Hull at 223-5635.
---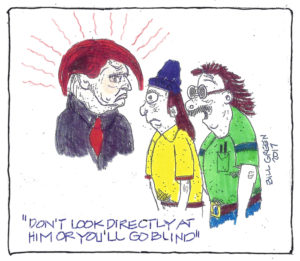 ---
You must push yourself beyond you limits, all the time.
~ Carlos Castaneda