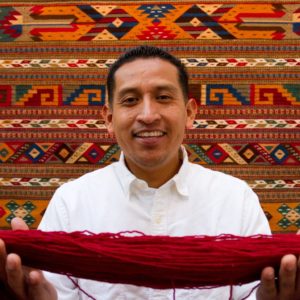 Focus on the Masters is pleased to shine the Artist Spotlight on Porfirio Gutierrez, an extraordinary weaver who combines ancient Zapotec traditions with a modern sensibility.Growing up in Teotitlan del Valle in Oaxaca, Mexico, he was immersed in the ancient art of weaving. Using natural dyes and employing traditional designs, he and his family, it can be said, are making certain that the artistic and spiritual values of his ancestors continue to be known and admired around the world. Through August, he is featured as a Guest Studio Artist at the Carnegie Museum in Oxnard.
Make your reservation today! www.FocusOnTheMasters.com or 653.2501. $10 for the general public, $5 for students and seniors, and free to Focus on the Masters Members. Not a member? Sign up today at www.FocusOnTheMasters.com.
AfterGLOW Fundraising Event: Immediately following the program join us for an AfterGLOW, a celebratory dinner at the Ventura home of Terry Willison immediately following the program. The AfterGLOW is $25 for FOTM members, $35 for non-members. Paid reservations are required prior to July 25. For RSVP & tickets visit www.FocusOnTheMasters.com or call 653-2501.