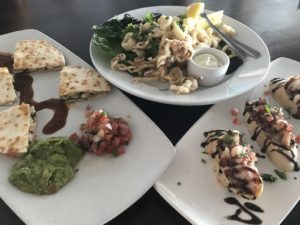 by Jennifer Tipton
A Rhumb Line is the course of a ship that keeps a constant compass direction, good name for a restaurant that delivers consistently great food and service!
Also called "The Sunset Restaurant", Rhumb Line is located where the old Scotch and Sirloin used to be in the Ventura Harbor. If you haven't lived in Ventura for long, you probably have no idea where this is – 1510 Anchors Way Drive. With plenty of parking, the location provides beautiful views of the harbor just about anywhere you sit, there are indoor bistro type tables, a more formal dining area, bar seating that faces the harbor and a dog friendly outdoor patio also overlooking the harbor.
Everyone knows the best way to advertise (only second to running an ad in the Ventura Breeze) is word of mouth, so when a friend shared his experience at Rhumb Line, we all went to see for ourselves and what we found was indeed notable!
A Happy Hour is about the "tapas" or "small plates", the adult beverages and great company, Rhumb Line delivered just that with the beauty of the boats and water as an added bonus.
The menu includes items you may not find anywhere else such as Blackened Ahi Sliders, Beef Sliders with bacon and blue cheese, a variety of Flatbread Pizzas and Oysters. These range from $5 to $10 each. The adult beverages selection offers the usual well drinks, beers and house wine for $5 and specialty cocktails such as Fresh Margaritas and one called a Rubedo (that sounded pretty tasty) for only $8 each.
The clever way to do happy hour is with a group so that each can choose a different selection and then share to taste a variety of tapas. We shared the Baby Back Riblets with a Szechuan glaze, the Ahi Poke served on large fried wontons with a sauce that again was delectable, the Shrimp/Chicken Quesadillas with pepper jack cheese, spinach and Pico de Gallo, Fried Calamari with a lemon aioli, Shrimp Bruschetta Bites with an aged balsamic glaze and the Lamb Sliders with arugula, tomato jam and goat cheese served with shoestring fries! The portions were not small, the flavors were fabulous and not one of us could choose a favorite, two of us even said, "wow, that calamari was good, and I don't even like calamari!"
Service was good although we were missing a place setting and waited on a glass of water, but our plates were replaced with fresh ones for each dish which I thought was a nice touch and our server was very personable and kind.
A big shout out to Tommy Alizotis who we had a chance to meet, he is one of the 3 new owners that took over Rhumb Line about a year ago and is also the General Manager and Kitchen Manager – very impressive!
Rhumb Line's Happy Hour is open every day from 3-7pm with all these tempting tapas and refreshing beverages, but bring your own great company (although the staff is very friendly). You could even invite me to join you.