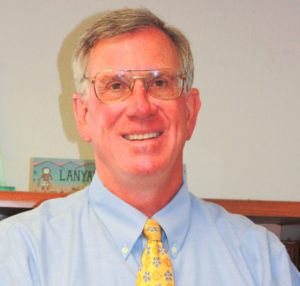 by Lori Harasta
The focus of this year's Pacific Coast Business Times' Champions in Health Care was on aging and elder care. Among those recognized for excellence was Dr. Lanyard Dial, President/CEO and Medical Director for Livingston Memorial Visiting Nurse Association, who was awarded Champion in Underserved Care.
Livingston is a critical safety net in Ventura County, serving 90% of the underinsured and indigent patients needing quality home health, compassionate hospice care, and essential personal care. It is a vital part of Livingston's mission to ensure that everyone receives care, regardless of their financial situation. During 2016 Livingston provided subsidized care to 636 patients at a cost of $750,777.
In 2017, Livingston expects to deliver subsidized care, services and programs to 300 unduplicated seniors through Home Health, Hospice programs and Care Giver programs. An estimated total of 2,600 seniors will be served.
Since 2014, Livingston has provided nurses for a program serving the underserved called COPD Access to Community Health (CATCH) Program. In its last few months of funding, CATCH is a free-of-charge program designed to improve health outcomes for people with respiratory disease. As a result of the program, according to Ventura County Health Care Agency data, there has been a 36% reduction in COPD-related emergency room visits over baseline.
In addition to these programs, Livingston is partnering with Ventura County Emergency Medical Services (EMS) in a program intended to prevent unnecessary transport of hospice patients to a hospital emergency room; instead treating them in their homes, according to their wishes. Livingston has participated by training first responders to assess patients, talk with family members, and determine whether the patient needs a hospital visit or if the emergency can be managed in the comfort of one's home. This has reduced the rates of ambulance transports from 80% to just 36% of hospice patients (August 1, 2015 to September 30, 2016).
These are just a few ways Livingston, under the leadership of Dr. Dial, has been serving the underserved in Ventura County for the past 31 years. This year, Livingston celebrates 70 years of service in Ventura County.
As part of their services, they host free monthly education classes throughout the county which include the following in Ventura:
Adult Bereavement Support Group Wednesdays, August 2, 9, 16, 23 and 30, from 6:30-8:00 pm. These groups are open to individuals who have experienced loss and are free of charge.
Newly Bereaved Support Group Thursday, August 10th from 6-7:30 PM. This monthly group is designed for adults who have recently experienced the loss of a loved one and is free. These groups meet every 2nd Thursday of each month.
Diabetes Classes Tuesday, August 1st from 1-2:30pm. These meetings are held on 1st Tuesday of each month. General information is provided about Type 2 Diabetes including prediabetes, with emphasis on meal planning, medication, exercise, blood sugar monitoring, and new developments in diabetes.
Joint Replacement Classes Thursday, August 3rd from 1:00-2:00pm. You will learn what to expect before, during and after knee or hip replacement surgery and how to be an active participant in your care. These meetings are 1st Thursday of each month.
Monday, August 14th for both English and Spanish speaking. English 4:00-5:00 pm and Spanish 5:30-6:30 pm. You will learn what to expect before, during and after knee or hip replacement surgery and how to be an active participant in your care.
All classes at Livingston Memorial Visiting Nurse Association office, 1996 Eastman Ave., Suite 109. Call 642-0239 for more information.