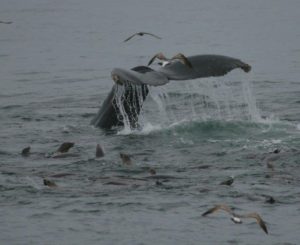 Winter whale watching off the beautiful Central Coast of California runs from December to mid-April. An Island Packers whale watch is a perfect way to gather with family and friends to view the Pacific Gray Whales as they migrate through the Santa Barbara Channel on the way between their feeding grounds in Alaska and their breeding grounds in Baja.
Other possible sightings include humpback or fin whales, and occasionally Orcas, all of whom visit the productive waters of the Channel to feed on rich resources found in the majestic waters.
The Half Day Whale Watch Cruise provides stunning views of the Ventura coastline or the Channel Islands, wherever the whales may be sighted.
The Island Wildlife Cruise Half Day tours the north shore of Anacapa Island where visitors will see the historic lighthouse, view the highly photographed Arch Rock, enjoy a closer look at the California sea lion, spotted harbor seals and other wildlife.
Annual mammal sightings often seen also include minke whales, and sometimes the largest animal ever on the planet the majestic blue whale. Common dolphin populations often appear on the scene to delight passengers as they frolic with the boat, and ride the bow and stern waves.
Rates for half-day trips are $38 for adults, $34 for seniors and $28 for children age 3-12.  Children 2 and under are free.
"All year long, we invite visitors to come aboard our boats for an exciting and educational Nature Discovery Tour of the Channel Islands National Park," stated Cherryl Connally, Office Manager at Island Packers.
Island Packers is the authorized concessionaire the Channel Islands National Park, family owned since 1968.  The main office is located at 1691 Spinnaker Drive in theVentura Harbor Village.  For more information visit the user-friendly website or to book online at www.islandpackers.com or call 642-1393.