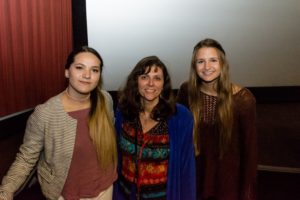 Recently Ventura-based YCE, Inc. a woman-owned engineering and surveying firm, hosted the local premiere of Dream Big – Engineering Our World at the Collection's Century Riverpark 16 theater. Over 400 enthusiastic guests were greeted by YCE, Inc. owner Marta Alvarez who then viewed Dream Big, a larger-than-life movie celebrating engineering wonders of the world through the telling of heartfelt stories of human ingenuity.
In conjunction with the premiere, YCE, Inc. awarded scholarships to two deserving young women. A three-member judging panel read over 50 applications before selecting Anahi Morelos, a Lompoc High School senior who was awarded the $750 engineering scholarship and Alexandra Alamillo, a Camarillo resident & Cal Poly SLO Agricultural and Environmental Plant Sciences student who was awarded a $750 agriculture scholarship.
The Society of Women Engineers 2016 Engineer of the Year, Marta Alvarez was named one of three national winners in the American Society of Civil Engineers (ASCE) Dream Big contest. Alvarez strongly believes in giving back to her community and to the fields of engineering and agriculture. "I saw this as an opportunity to really celebrate women in engineering and agriculture," stated Alvarez. "That's why we decided to incorporate two scholarships for local, tri-county female students."
YCE, Inc. is a full-service civil engineering and land-surveying firm located in Ventura. Founded in 1986 by Marta Y. Alvarez (PE/LS/MASCE), civil engineer and land surveyor. YCE is a nationally recognized Minority/Women-Owned Business Enterprise (M/WBE) employing engineers and land surveyors.
Marta was just announced by NAWBO-VC as their Bravo Innovator of the Year!