Sheldon:
Once again Sheldon you got a smile out of me instead of a groan with your comment concerning your dislike of the initiative process. Involved voters causing a vote to go to the people ? An abuse of power ? Hardly.
Sometimes politicians are not able to put one foot in front of the other without tripping , because they overlook little things like….. logic for instance. The public then has to pick up the slack. Costly yes. Necessary most of the times, yes. Unnecessary sometimes , yes, but can you imagine what would happen otherwise ?
That's one good reason to install term limits. Career politicians ( including ventura politicians) , get bad eyesight the longer they are in office. They keep tripping on logic.
Mike Art
---
---
Sheldon
I read the current issue and thought you did a great job on the Susan Laby article. I hope you write as nice a one when I go.
John Ferritto
Who is this again?
---
---
Dear Sheldon:
Thanks so much  for supporting A Whirl Of Merriment (FOTM fundraiser)! I'm pleased that you and Diane could join us.
Your ongoing reporting on the Brooks incident is very much appreciated. You have a nose for news and I know that your interest in covering the truth about this poorly executed plan has helped to bring the public's attention to it. Keep up the good work!
Your ongoing support of Focus on the Masters is very much appreciated.
Sincerely,
Donna Granata
Founder & Executive Director
---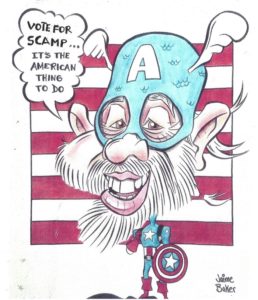 Dear Editor,
I attended the Scamp for President Rally with glee.  There I found a tidy crowd consisting of Scamp's campaign manager (in a Hawaiian shirt!), his Pawblic Relations committee, loyal sign twirlers heralding oncoming traffic to vote and "bark" their support, confounded furry companions, and the candidate himself sporting a giant red bow tie.
Missing of course was the running mate, "Savana the Cat", or is it asleep-on-the-job mate?
Lyn Fairly
KVTA News Talk Radio 1590 AM
---
Sheldon
My wife Barbara is forcing me to write you again,  despite my writing you already with my opinion. Now she wants me to give you her opinion . Ain't love grand !
She has a beef with the downtown parking situation and the news racks. Priority goes to the parking situation.  Years ago the city council convinced the public that all those free parking lots down town were adequate,  but as we all found out , a very valuable one was fenced off and kept from the publics use under the guise of getting the lot ready to sell.
The old Top Hat lot was a very needed parking lot. It is now an eye sore that is not utilized. The property is still vacant and still badly needed.  Hopefully some new council blood will help us out here with more free parking downtown.
Now second on my wife's survival of the planet list (joke ) , is the condition of the news racks. The city forced news owners to get rid of those old eye sores. They were replaced with clean iron ones which blended with the Spanish 1920s look of the area.
One look at the racks in front of the post office on Santa Clara and some on main street , would have some people wondering what has happened to those clean racks. Many are now in need of repair. They are as shabby as the ones they replaced. items of use require maintenance. A fact of life.
My deed is done
Mike Art (Husband of Barbara Art)
Mike: I certainly hope that Barbara really asked you to write this for her so that I don't get in trouble with her. Regarding the newspaper racks I, and the City are in complete agreement with her. Something will be done soon to correct this situation. There was no thought given as to who would maintain these. The racks are owned by the City and the inserts by the publishers.
---
I like long walks, especially when they are taken by people who annoy me.
~ Noel Coward